Anthrax, Black Label Society & Hatebreed take over Las Vegas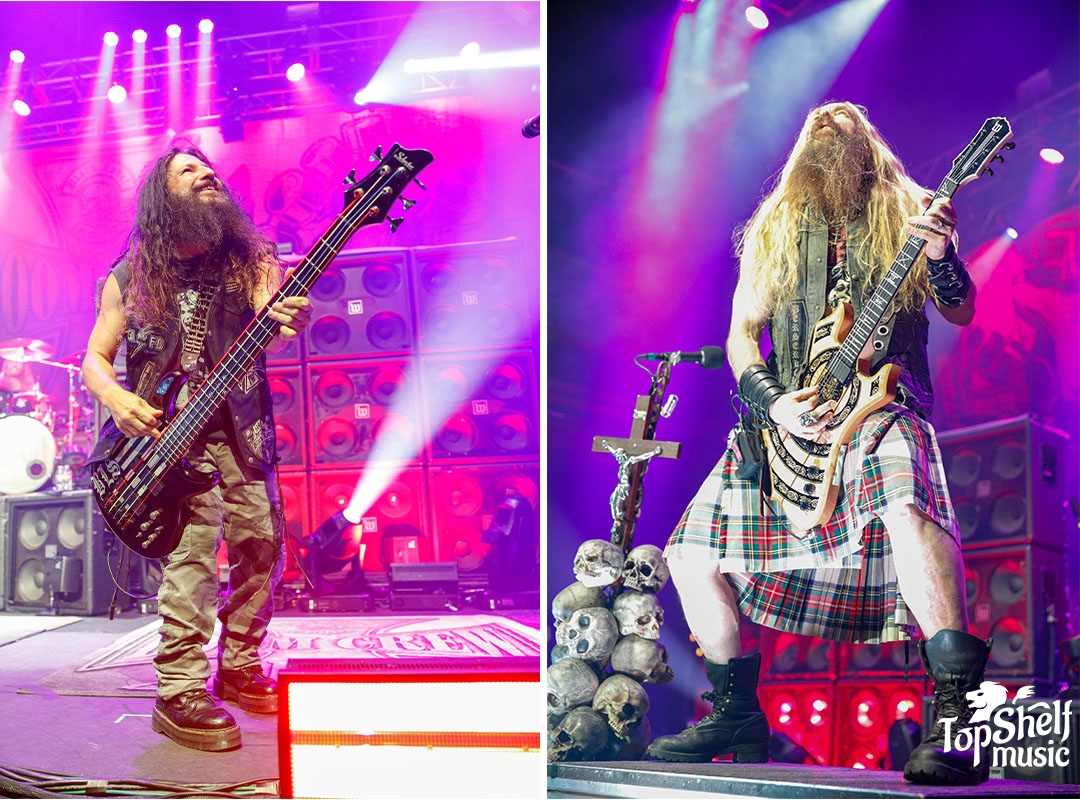 When our bands are playing in Vegas, it's a mother/daughter road trip! Anthrax, Black Label Society and Hatebreed rolled into The Brooklyn Bowl at The Linq Promenade on the Vegas Strip on July 28th — this is our new favorite venue! You can grub while knockin' down a few pins and enjoy a concert all at the same time. There's also a VIP experience on the second floor and a balcony overlooking the Linq Promenade, which is a great spot to people watch. We walked into the venue through security, in awe of the gorgeous disco ball above; as we stepped onto the escalator, we were offered bottles of water. I love this place!
Unfortunately, we missed the first few songs of Hatebreed…
Good thing they had a pretty long set of 15 songs! We were not expecting that for the opening band, so that was an awesome surprise. Jamey Jasta said he was honored to be on this tour with BLS and Anthrax, as they are some of the coolest people on the planet. Their job, as the opener, is to get the energy up and they definitely succeeded. The mosh pit was moshing, a few crowd surfers were surfing and outside of the pit, fans were jumping.
One of the things Jasta said that I believe holds true for all of us music lovers is, "When life gets you down and you're not here (at a concert), you still have the songs and albums. It's the best therapy in the world." Hatebreed then closed out with two of my favorites, "I will Be Heard" and "Looking Down the Barrel".
As with every show, sometimes it gets a bit stuffy at an indoor venue. We decided to take a breather outside on the balcony. It was pouring buckets of rain, with a beautiful lightning show. As the show went on, because everyone had their phones up, we could see the *Flash Flood Warning. Do not travel* pop up on every phone. We decided to just be in the moment and enjoy every minute of the show, and worry about getting home later.
This was my first time seeing Black Label Society. I know, I know, it's not that I haven't tried. I have seen Zakk Sabbath, does that count? Zakk Wylde came out in his signature look, denim vest, black boots and kilt. Being in the photo pit, I was a little concerned at what might appear from under the kilt, but I didn't see anything… I swear! They played a few off their latest album Doom Crew, Inc., released in 2021, like "Set You Free", "Destroy & Conquer" and "You Made Me Want to Live". Bassist John DeServio was looking up to the top level with a big smile on his face. I thought his family or friends must be up there. Later, I realized it was fellow bassist, Ra Diaz of Korn! Closing out the set with "Stillborn" by Black Sabbath.
That night, we were all celebrating 40 years of Anthrax and thrashing together.
The lights went down and a video of celebrities paying respect to Anthrax on their 40th anniversary played. I have been a fan since 1987, with the release of Among the Living; having my 20-year-old daughter love and appreciate Anthrax with me is amazing! Fun fact: Among the Living is dedicated to Cliff Burton, bassist for Metallica, who passed away six months before the release of the album while they were on tour together in Europe 1986.
We heard a guitar with the first notes of "Among the Living", building anticipation as we all waited for the curtain drop. Finally, the curtain fell with a blast of lights and full Anthrax energy, followed by "Caught in a Mosh". I won't spoil the whole set list. I know a lot of fans like the surprise. If you've been a longtime fan, I'll just say the setlist was fire! Anthrax has created such a uniquely recognizable sound and Joey Belladonna is one of my favorite frontmen. He always makes every fan feel seen and appreciated. He makes eye contact, gestures, maybe takes your phone to take selfies. He's fun, entertaining and super cool dude offstage, as well. He acknowledged the top level as "the ones that didn't pay for their ticket", giving a shoutout to Eddie Trunk who was also hanging out up there.
They closed out with "Indians". I think this is the most iconic Anthrax song, especially when Scott Ian screams "War Dance"! If the crowd doesn't have enough energy, the shows stops and we start over. I have seen Anthrax many, many times over the years and I still get so crazy excited for this — like it's the first time I've seen them. We had an amazing time in Vegas at Brooklyn Bowl. I highly recommend this venue for any show! Anthrax, congratulations on 40 years together and thank you for being a huge part of my life!
Photography by Heather Vandemark