Outside Lands 2023: Day One
Ninety bands, hundreds of local vendors, alongside 75,000 of the Bay Area's most eclectic melophiles migrated to Golden Gate Park Aug 11-13th to celebrate 15 years of Outside Lands music festival magic. Fueled by industry powerhouses Superfly & Another Planet, Outside Lands continues to solidify itself as one of America's premier music festivals. Along with sister festivals Bonnaroo and Life is Beautiful, Outside Lands embodies the same inclusive mission that the universe needs.
Kudos to the powers that be, I'm looking at you Ranger Dave, for holding it down for betterment of mankind.   
In the immortal words of Super Trooper Thorny "Enhance! Enhance! Enhance!" Outside Lands personifies that mentality, and 2023 did not disappoint. A big part of the splendor has always been re-exploring the ever evolving festival landscape. There is something very Alice & Wonderland about peeking around each corner of Outside Lands while exploring each nook and cranny of Golden Gate Park. So begins our annual journey down the rabbit hole to see what new tricks mascot, Ranger Dave has up his sleeves. 
Lands End introduced its open-air dance party stage Dolores', which featured a revolving door of the Bay's hottest DJs in an effort to represent San Francisco's world famous dance culture deeply rooted in the lively LGBQT+ community. Dolores' provided a pulsating beacon for vibes and acceptance. We caught Fake and Gay's installation in passing and proceeded to shake our groove thang on our way to Twin Peaks. 
Famous San Franciscan, Karl the Fog, wasn't the only thing blanketing the coast on day one, anticipation draped the crowd like an electric blanket. The energy was palpable passing through Hellman Hollow, as a never ending sea of people rushed to catch Shaq's alter ego, DJ Diesel. Something magic was in the air. Shaq had a valid excuse for his late start, "Sorry I'm late. I was chilling with Steph Curry and Draymond Green. Where are my Warriors fans at?" Hands went up, and DJ Diesel made sure they stayed there. Twin Peaks flexed as Shaq dunked on a max capacity crowd going absolutely bananas. Things escalated further when DJ Diesel brought out Warriors guard, Gary Payton II. Quite the sonic moshpit to kick off the weekend's escapades. I even caught myself head banging like no one was watching. Turns out our Top Shelf editor-in-chief, Jenna Shaw, was.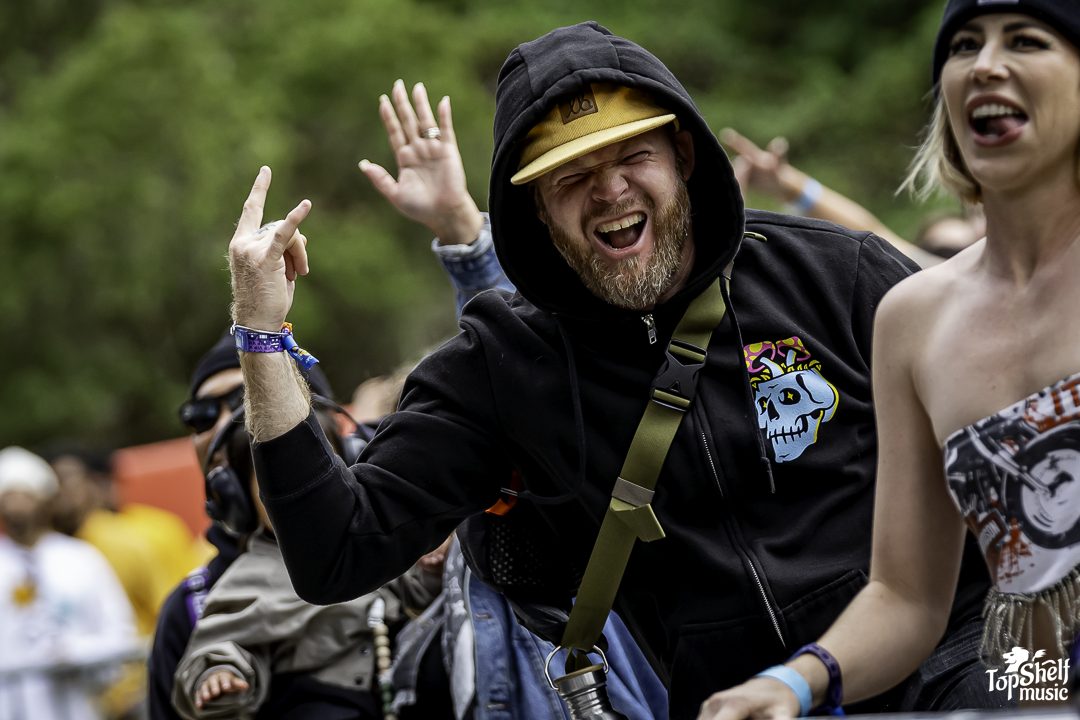 High on Shaq's surprisingly electric set we raced over to the main stage to catch, Janelle Monåe's iconic set. Monåe stole the day with a dazzling performance. Monåe's nonbionary star studded pizazz was by far the day's best dressed, which was only outshined by her iconic vocal range. Her set was nothing short of a freak glitter storm in a grandiose midsummer's night dream. If you haven't caught this genre chameleon's live show, make sure she is on your bucket list. You're welcome. 
Wine Lands, perched atop of the crest of Marks Meadow overlooking The Music Den by Toyota, showcased Napa & Sonoma's finest vineyards paired with charcuterie, and rustic lounge areas to escape the hustle and bustle. We happily stuck our pinkies out to taste the region's award winning grapes.
There's something ironically satisfying about sipping wine while wearing a fanny pack.       
Fans (I'm fans) were faced with a battle-of-the-headliners as acclaimed producer Zedd faced off on opposing stages with Kendrick Lamar to close out day one. Rest assured, there were no wrong answers here. Everybody is a winner at Outside Lands. Both titans showed up and treated day one's sold out crowd to unforgettable performances. 
Sorry Zedd, Kendrick won the day for this crew. Silhouetted in a single spotlight like a beacon of confidence, Kendrick remained predominantly stationary throughout his performance as a symbolic pillar of conscious lyrics. The Compton based rapper's emotional performance of "Love." was a crowd hightlight as thousands of fans echoed the lyrics in perfect harmony. "Give me a run for my money. There is nobody, no one to outrun me. So give me a run for my money. Sippin' bubbly, feelin' lovely." 
Lovely we were, only street meat stood between us and day two. 
Article by Austin Widdowson | Photography by Jenna Shaw