Outside Lands 2023: Day Three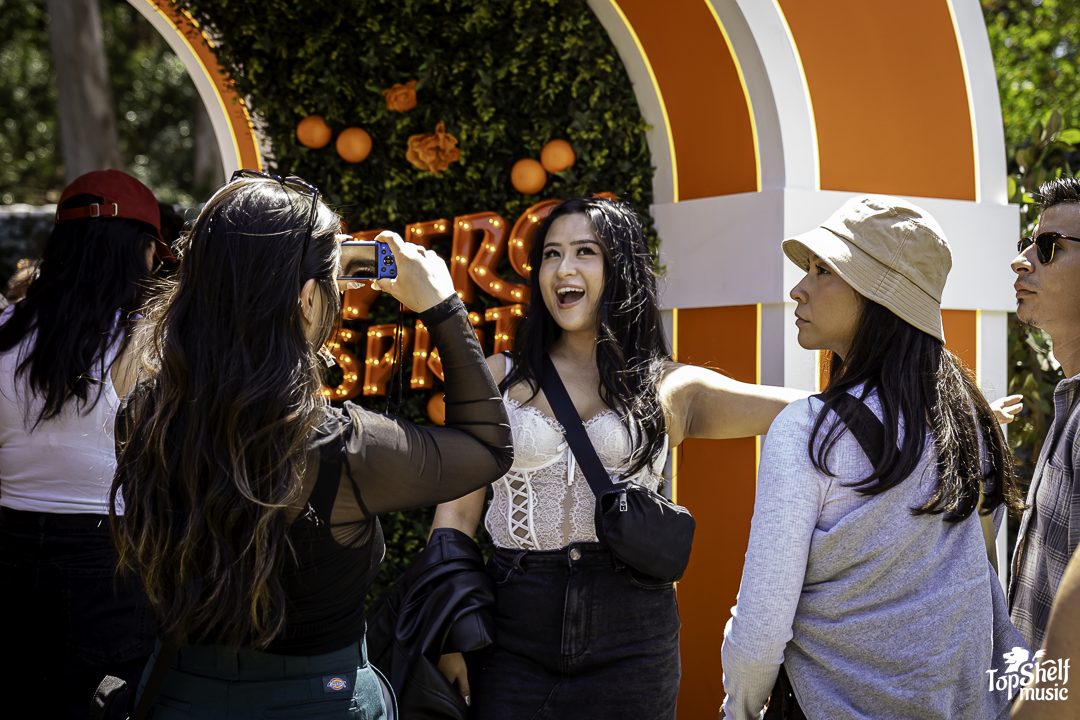 Sunday Funday kicked off in grand fashion with Gasolina, the world's largest touring reggaeton party, showcasing the best sounds in classic and current reggaeton, dembow, dancehall and beyond hosted in Cocktail Magic. Droves of fans twerked their way to Lindley Meadow to celebrate Gasolina, whose mission is to create a community within the reggaeton and latin-music scene across the United States. By far one of the rawest dance parties I've ever been a part of and a definite highlight of Outside Lands day three.
Throughout the weekend Sutro Stage, flanked on the opposite side of Lindley Meadow, hosted headlining acts from around the world, including the likes of L'imperatrice (France), Fisher (Australia), Interpol (NY), and Nora En Pure (South African born, Swedish Resident) to name a few. We sauntered over to catch the soulful stylings of Compton-bred gospel singer Jacob Lusk, UK-born producer and keyboardist Ryan Hope, and LA-native producer-composer and violinist Ari Balouzian, who are better known as Gabriels. Lusk's vocal stylings are unparalleled, so it should come as no surprise that he finished fifth on the 10th season of American Idol. The R&B-soul-rock hybrid collective crafted a masterful live set giving me chills at multiple points during their performance. If you aren't hip to Gabriels, do yourself a favor.
Back at the Lands End stage, Megan Jovon Ruth Pete known by her adoring fans as Megan Thee Stallion turned up the volume on day three with her captivating performance. Hot boys and girls alike were mesmerized as the 28-year-old Huston native rapper emerged from the darkness wearing an illuminating shade of pink. The real MVPs of her set were her knees as she strutted, twerked and danced her way across the mainstage showcasing supreme strength, mobility, and confidence. Megan Thee Stallion is a force of nature not to be ignored.
After wiping the steam off of our sunglasses, there was only one logical next step, Cigarettes After Sex.
Droves of hipsters and hopeless romantics blanketed the Twin Peaks stage to witness the pure euphoric bliss of Greg Gonzalez's lyrics. Gonzalez and Cigarettes After Sex are known for their sultry dreamlike lyrics deeply rooted in romance. The live performance oozed with raw talent and a much needed shot of authenticity that often gets lost on the big stage.
Zuric-born and Nashville-raised sensation Soccer Mommy, fronted by gifted songwriter Sophia Allison, was only 20-years-old when she put out Clean, her groundbreaking studio album, which has become one of the most beloved coming-of-age albums of the 2000's. Allison takes listeners on a clever synth-filled new wave goth adventure of desire and apathy, ecstasy and misery, good and evil, self-control and wildness. Allison certainly has a parade of dedicated fans which was evidenced by the mass crowd that lined Hellman Hollow in support. Not hard to understand, as I caught myself singing along to her contagious lyrics and addictive melodies that make Soccer Mommy songs so easy to obsess over.
As much as The 1975's are on steady rotation in my headphones, on this day they were a hard pass. It is impossible to express the pure joy and anticipation I've felt over the past months counting down since Outside Lands announced Odesza would be headlining this year. For those unfamiliar to the cosmic majesty that is Odesza, please immediately stop reading, and dive head first into their musical universe. IYKYK. For those of you still with me, you know the dynamic electro-duo, Harrison Mills and Clayton Knight, known individually as Catacombkid and BeachesBeaches, but known collectively as Odesza are undoubtedly the eighth wonder of the world. Bay Area musical Godfathers, The Grateful Dead, may be credited with coining the phrase "steal your face;" its true definition wasn't revealed to me until Mills and Knight along with a full band including a masterful psychedelic drumline landed a spaceship on the Lands Ends stage to close out the 15th anniversary of the world renowned festival. Breaking fourth walls, and practically every other law of nature, Odesza's live performance artistically attacked all five senses blending cinematic 3D visuals, on-stage pyrotechnics, lasers and synchronized fireworks that lit up the night sky. Ignore my shaky hands as I type this next statement, Odesza's 2023 Outside Lands performance has officially made its way into my top three shows of all time and, quite honestly, there's a solid argument to be made that it owns my number one slot. Catch this tour at all costs!
As we crept out the front gate, still very much processing the second coming that was Odesza, visibly worn from a weekend of unfettered debauchery, and back out into the hustle and bustle of San Francisco we witnessed a pack of feral teenagers joyously reuniting.
The alpha of the pack blurted out "It was a bloodbath in there! We lost everyone!" No truer words have ever been spoken.
Rest easy campers the countdown to Outside Lands 2024 has begun.
Article by Austin Widdowson | Photography by Jenna Shaw