Back in its 6th year, the fastest-growing independent and family-run music event, ARISE Music Festival, has taken shape for 2018! Spanning 100+ acres of the breathtaking mountainous fields of Sunrise Ranch just west of Loveland, Colorado, this festival promotes beyond merely music and good vibes for all. Over its five years of existence, ARISE is dedicated to a 'leave-no-trace' mentality, offering 'global cooling' initiatives between musical acts in the form of onsite festival workshops, pre-festival permaculture training, an organic farmer's market within the festival campgrounds and stimulating documentary screenings and panel discussions. Let's not forget the world we live in while we enjoy three full days of music.
Let's not forget the world we live in while we enjoy three full days of music.
Speaking of three full days, ARISE will feature a whopping seven stages of live music this August 3rd – 5th 2018! From reggae to world music to hip hop to trance, there's something for everybody at this all-ages, all-inclusive event. With two headliners year to be revealed (check back in April and May), ARISE 2018 heralds headliners Slightly Stoopid and Thievery Corporation at this point in time. Also at the top of the performance list is Trevor Hall, Pepper, Living Legends, OTT., Quixotic, Everyone Orchestra, The Lil Smokies, a tribute band to the Talking Heads who call themselves Start Making Sense, Dumpstaphunk and Kitchen Dwellers. Want more? You asked for it. Here's the full list (at least thus far): Charlesthefirst, Bass Physics, Ayla Nereo, Shook Twins, Con Brio, Dustbowl Revival, Probecause, Dustin Thomas, Family and Friends, Eminence Ensemble, Bridget Law, Dynohunter, Plantrae, The Wooks, Tubby-Love & Amber Lily, Dragondeer, Ethan Tucker, Magna Carda, Gasoline Lollipops, The Peace Poets, Skydyed, Roots of Creation's Grateful Dub, Old Salt Union, Mikey Thunder, Dead Floyd, Trevor Green, Jyemo Club, Lunar Fire, Xiuhtezoatl, Spectacle, Tierro with Bridget Law, The Burned, Katie Gray, Dubskin, Meadow Mountain, The Jauntee, Intuit, Bojay Shrestha & Andy Skellenger, Megan Hamilton, Guerrilla-Fanfare, Ley Line, Indigenous Sisters of Hip-Hop, Funkstatik, Telemetry, Proximity, Totem, Andrew Sturtz, Fierce Le Fey, Mountainus, and Rhythm Sanctuary. And, yet, another announcement to come!
As mentioned, this fest is far more than musical performances. Throughout the grounds, there will be performance artists, yoga classes, presentations, art galleries and installations, activism workshops, live painting and even interactive villages! There will be a Children's Village, a Food Truck Village, a Vending Village, a Healers Village, a Hemp Village, and a Wisdom Village to explore each day of the fest. Yoga instructors signed onto the event include Faith Hunter, Ashleigh Sergeant, Steph Schwartz, Rob Loud and R.R. Shakti; presenter names on the 2018 bill are David Karchre, Barbara Marx-Hubbard, Bridgette Mars, Martina Hoffmann, Phil Lewis, among others. If you're looking for an event that equally balances education with entertainment, look no further – ARISE will enlighten you. That being said, this co-creative fest encourages everyone to get in the mix with an application for performers, instructors, artists and more to fill out on the ARISE website. There's still time to apply!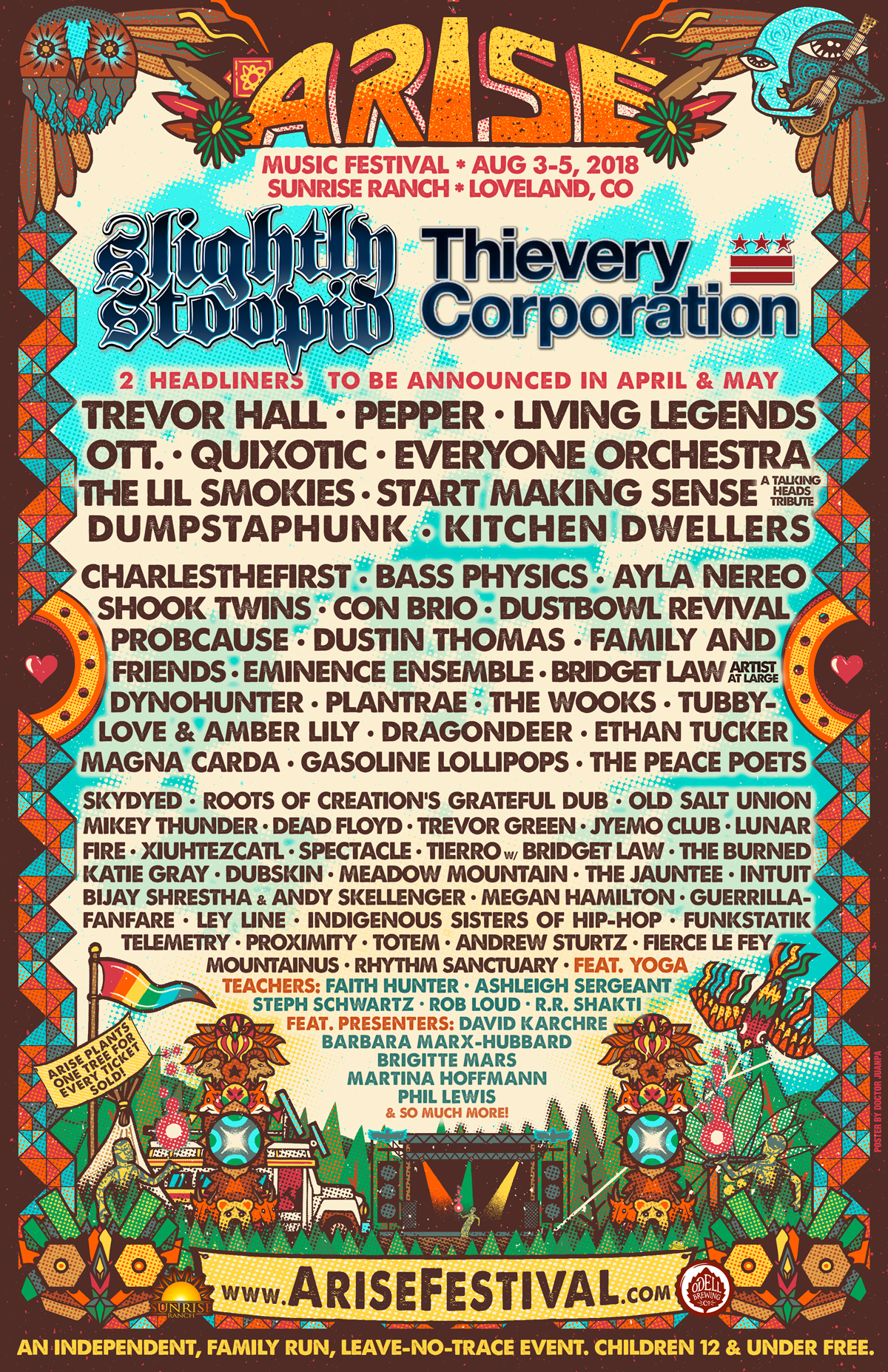 ARISE 6 is once again a camping event with several packages to choose from, ranging from general admission all the way to glamping tent packages. And, this is the time to purchase, since early bird and super early bird pricing is currently in effect! Camping is included with ticket entry (complete with themed campsites to choose from!) although you do have to purchase separate parking passes if you plan on bringing your own car: $40 for single entry, $80 for reentry. Speaking of, upgrades to general admission can cater to the exact experience you want. Want to camp by your car? That'll happen with a $99 add-on. Bringing the family? Get a guaranteed 10×10 foot spot for $35. Traveling in the RV? A small RV spot starts at $99 (no hook-ups though, plan accordingly). Want VIP? Live luxuriously with a VIP Northside camping pass ($99), a VIP Westside camping pass ($299), all the way up to the Westside VIP Glamping tent package for $625. The only thing is you have to add that to the general admission weekend cost of $199 (early bird pricing). It might sound a little steep, but this one-of-a-kind festival pays for itself with unforgettable memories and a lifetime of knowledge. Plus, families get a break with children under 12 getting in free! Got teenagers? Young adults ages 13-17 still get a price break, with weekend passes priced at $79. Please note the ARISE crew promises to plant a tree for every ticket sold, so just attending the festival makes a difference. For more information or to purchase tickets now, visit www.arisefestival.com.
ARISE 2017 Magic Moments Video: