One year ago, I saw a post that said MEGACRUISE with photo of Testament. Megadeth is hosting a five-day cruise with thrash metal bands!! As months went by, more bands were revealed: Anthrax, Queensryche, Armored Saint, Death Angel, Metal Church, Suicidal Tendencies… I was not about to miss this boat! October 13th couldn't get here fast enough. 2000 metalheads and metal music for five straight days — it doesn't get any better than that. Metalheads are just instant friends; we understand each other on that headbanging, feel that double bass, screaming guitar deep in our bones level.
Of course, everyone was disappointed that Dave Mustaine would not be able to make the cruise. Mustaine is being treated for throat cancer. The other members of Megadeth — Dave Ellefson, Dirk Verbeuren, and Kiko Loureiro — were all around the cruise the entire five days. We all wish Dave Mustaine speedy recovery back to health and doing what he loves to do.
I felt like a kid going to Disneyland for the first time. Metalheads, EVERYWHERE!
I felt like a kid going to Disneyland for the first time. Metalheads, EVERYWHERE! I see members of Megadeth, Death Ange and Suicidal Tendencies in line to get on the boat. I'm fully expecting to be woken up at any minute from this dream. Walking on board and Jose Mangin (SiriusXM DJ of Liquid Metal and Octane) is in the Atrium greeting us with metal. I sat down and soaked it all in for a minute: the band shirts, long hair, tattoos… everything is just so… metal. Friends from previous cruises reconnecting — it was AWESOME! This is actually happening!
Walking around checking out the ship and making my plan of where I need to be and how I get there, I realized instead of elevator music playing throughout the halls, it's metal everywhere! Hunkering down in our cabin, there was metal playing on the Info channel. It was 24/7 concerts and metal documentaries playing on the TV of all the bands performing on the MEGACRUISE. Not that anyone was in their cabin much, but cool to listen to while you're getting ready. Dino Cazares of Fear Factory hung out on deck, chilling with a Corona. Mark Osegueda of Death Angel stood right next to me. I had to get selfies with these guys! Almost everyone was very approachable and happy to take a selfie or chat for a minute. Yes, there were a couple players not fan-friendly, but we all could sense who they were and move along to the cool dudes.
Metalachi was the first band to play on the Pool Stage for Sail Away. Metalachi is a cover band with a twist: metal and mariachi… quite an interesting, entertaining combination. Photo Experience was also happening with Death Angel, Dragon Force and Metal Church. Fans lined up for quick photo ops that they could later download for free.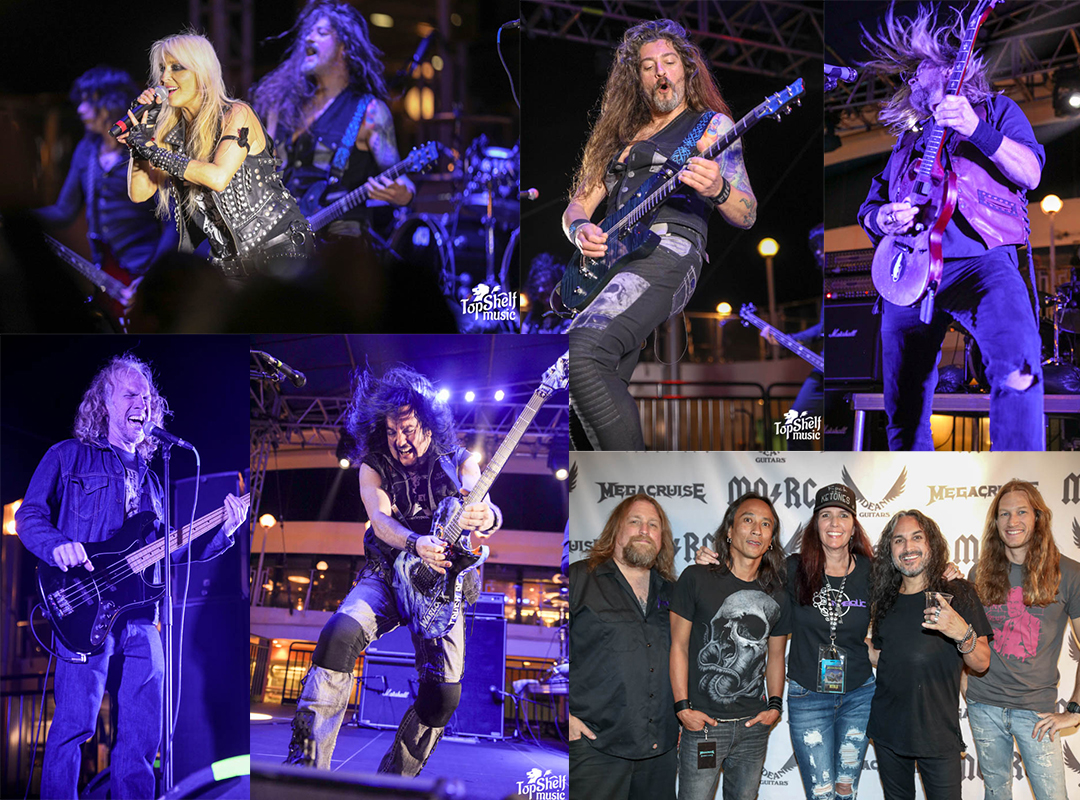 Corrosion of Conformity, with their bluesy heavy metal, hit the Pool Stage and Anthrax started at the Stardust theater at the same time. That would be my only complaint about the whole MEGACRUISE that sometimes the schedules conflicted, but 2000 people can't all be in the same place at same time, so I'm thinking it is a strategic move. There were two different groups (red and blue) because of the small venues, but I think it worked out for most if you wanted to see a band twice, there was room to squeeze in.
Anthrax packed the theater. No one was "Caught In A Mosh" in the theater, because there were nailed down seats. It was Joey Belladona's birthday, so we sang to him and a cake was delivered onstage. I swear, that guy connects, in some way, with every single fan in the venue. It might be eye contact, a nod, pointing to you, throwing picks out, but he acknowledges as many people as possible.
Megadeth Trivia with Jose Mangin happened next in the Atrium. We swung by for food and beer and were in awe of these hardcore fans answering tough questions. 11:15pm, we were back out to the Pool Stage to witness Doro Pesch, Metal Queen from Germany and former frontwoman of Warlock, hit the stage. Doro is still gorgeous and sounds amazing. She climbed out over the speakers to the fans and made one man happy getting on his shoulders for a brief minute.
As we walked back to our room, my companion and I were just in awe of the day. Did this actually all happen?
Toothgrinder hit the Spinnaker at midnight. I saw Toothgrinder at House of Blues San Diego for the first time on September 30th and was blown away. They dress sharp, like they are going to Sunday church, and then, they come out blazing with crazy energy and power. The stage in Spinnaker is a bit confining for bands like Toothgrinder, with high energy. We then dropped in on legendary Overkill, one of the first thrash metal bands, who was already in progress in Stardust.
We ended the night with some hilarious Late Night Karaoke… wait, I may have my karaoke nights a little mixed up. It was crazy fun every night. If you were brave enough to take the mic in front of a bunch of musicians, you were getting roasted and should fully expect no less. Don Jamison and Ace Von Johnson were roasting each other in between songs. We were cracking up. This girl headed to bed a little early, around 2am, to get up 'early' to do the 5K walk with Kiko Loureiro of Megadeth and Luc Carl SiriusXM DJ of Hair Nation and Ozzy's Boneyard.
As we walked back to our room, my companion and I were just in awe of the day. Did this actually all happen? Can tomorrow be any better than today? Stay tuned for Day Two!
Photography by Heather Vandemark