Earthday Birthday 28 is right around the corner, taking place on April 23rd! And, what better way to celebrate Earth Day than a full day of metal!? This will be the 28th year that Orlando radio station 101.1 WJRR has put on Earthday Birthday, making its debut way back in 1993!! That means, this is Florida's longest running music festival. And, this year's lineup is killer: Godsmack headlines with support from Three Days Grace, Black Veil Brides, Motionless in White, Ice Nine Kills, Wage War, Thrice, Blackstone Cherries, Ayron Jones, Jelly Roll and Lilith Czar!
Us California girls are just waking up to the incredible music scene on the east coast…
So, sorry Florida, but you're gonna be seeing a lot more of us now! This event is held at the Central Florida Fairgrounds in Orlando and brings about 15,000 attendees from all over. With this lineup, we're definitely hopping on a plane to be there if we can, cause this is a cannot-miss lineup.
This event will have some other experiences outside of the main lineup, as well. You can also catch the Even The Odd experience: a live art and music spectacle, where you can watch jaw-dropping side shows, live performances and even get tattooed!! So, you know I'm gonna be checking out that tattoo tent! The tattoo artists that will be featured at this year's event are Jimie Litwalk (from Season 3 and 7 of Ink Master), Carman Osborne, Annie Spore, Leroy Robertson, Kenn Vigil, Jeremy Bateman, Country and Tex. The Even the Odd Stage will also include bands Farewell to Fear, The Convalescence, Kirra, Living Dead Girl, Frame 42, Circa Arcana and Toxsick.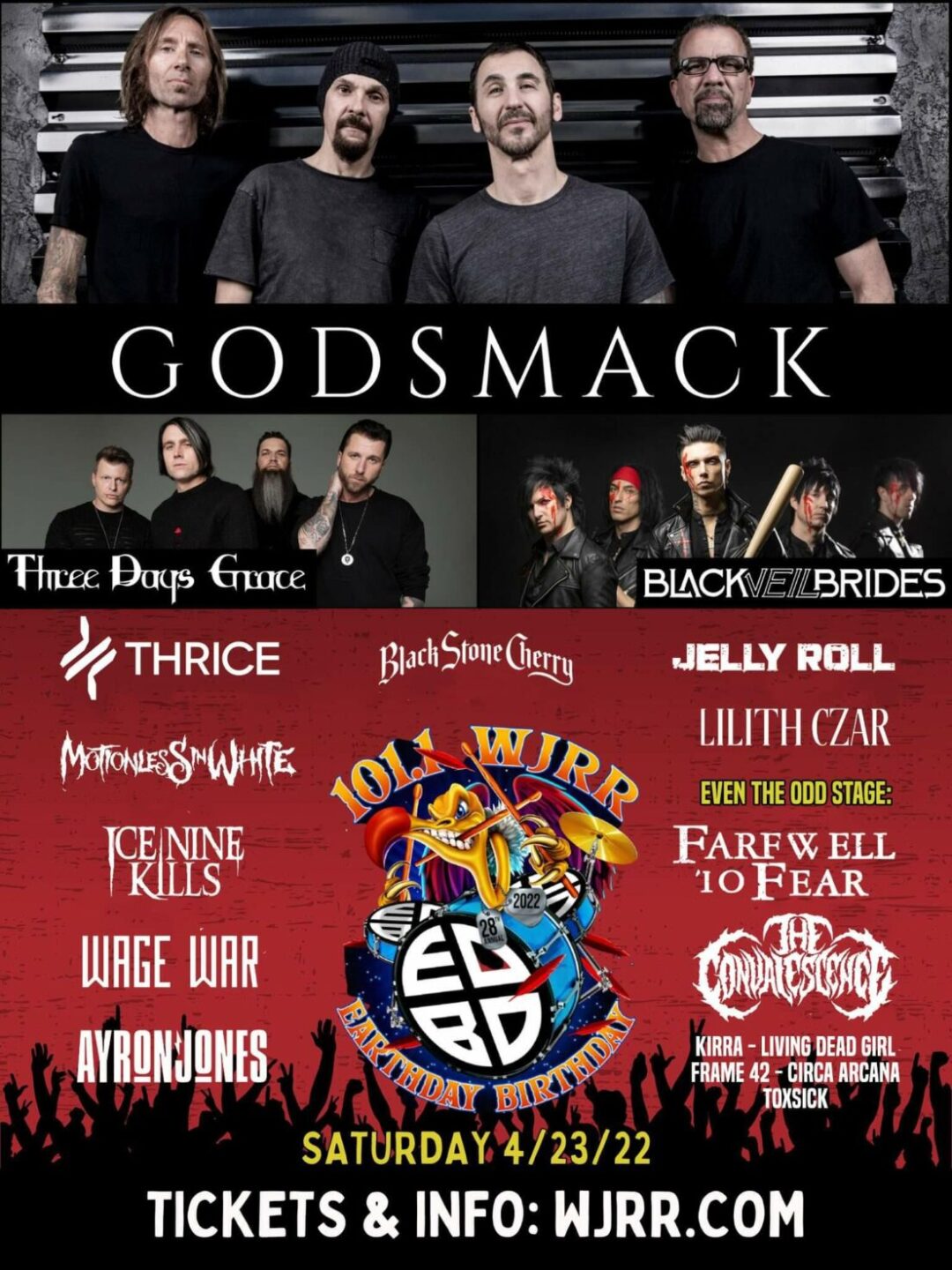 The 'trio of horror' Ice Nine Kills, Motionless in White and Black Veil Brides is in the midst of their Trinity of Terror Tour, which will also include Lilith Czar. Thus, Earthday Birthday will be just one of their stops, with only three shows remaining of that tour afterwards!
Earthday Birthday is sponsored by Bud Light and Bud Light Seltzers, Hard Rock Cafe Orlando and Fishlips Bar and Grille. That said, you know attendees will have plenty of options for some good food and drinks throughout the day. Not only that, but VIP and GA Tickets are still on sale for this insane event. With the VIP package, you get a fest shirt and laminate, lunch and dinner, access to the VIP tent with shade and fans, private VIP bathrooms and free water and sodas throughout the day.
Earthday Birthday is only a little over a month out — I'm literally counting down the days! It's going to be a day jam-packed with talent and fun, so don't miss out and buy your tickets now!