Foo Fighters delivered perhaps the most epic musical tribute of all time on Saturday, September 3rd, 2022 in London's Wembley Stadium: a six-hour concert dedicated to the memory of drummer Taylor Hawkins, who died suddenly a few months ago as the Foos were starting a massive world tour.
Members of rock-and roll-elites like Led Zeppelin, Van Halen, Rush, Queen, The Police, AC-DC, Metallica, Oasis, James Gang, David Bowie Band and The Beatles all showed up to deliver words and music in honor of a lost soul who had touched them — both professionally and personally.
This was one of the greatest collections of rock-and-roll talent ever assembled on one stage in a single day.
Video tributes from Guns N' Roses' Slash and Duff, Mötley Crüe's Nikki Sixx, Red Hot Chili Peppers drummer Chad Smith, Stevie Nicks and Elton John were shown throughout the event. Each artist commented on what a great friend Hawkins was to them and how he shared his beautiful soul with everyone in his life.
This was truly a family affair, with Dave Grohl's teenage daughter Violet showcasing an incredible voice on several songs and Taylor Hawkins' teenage son Shane performing incredibly on the drums, especially given the circumstances. Wolfgang Van Halen paid tribute to his father, Eddie Van Halen, by absolutely shredding the guitar covering "On Fire" and "Hot For Teacher".
Foo Fighters opened the show with Dave Grohl on drums and Liam Gallagher from Oasis on vocals, playing "Rock 'n' Roll Star" and "Live Forever". The marathon event continued to march on as day turned to night, with recorded tributes and live performances from Hawkins musical idols and friends. Two of Taylor's side projects, Chevy Metal and The Coattail Riders, each played inspired sets. Joe Walsh and the James Gang reunited for their first show in 15 years for a very moving performance. Them Crooked Vultures, featuring John Paul Jones and Josh Homme, played an emotional set, as well.
As night took hold, the massive crowd was re-electrified when the Foo Fighters took the stage.
Lars Ulrich of Metallica sat behind the drums and Brian Johnson of AC-DC walked out to crush "Back In Black" and "Let There Be Rock". Stewart Copeland, visionary drummer from The Police, was up next for "Next To You" and "Every Little Thing She Does Is Magic".
Geddy Lee and Alex Lifeson of Rush joined Dave Grohl for their first extended live performance since the death of their drummer, Neil Peart. Lee dedicated this special appearance as their own tribute to their own "fallen brother" and mesmerized the stadium with "2112 Part 1: Overture", "Working Man" and "YYZ".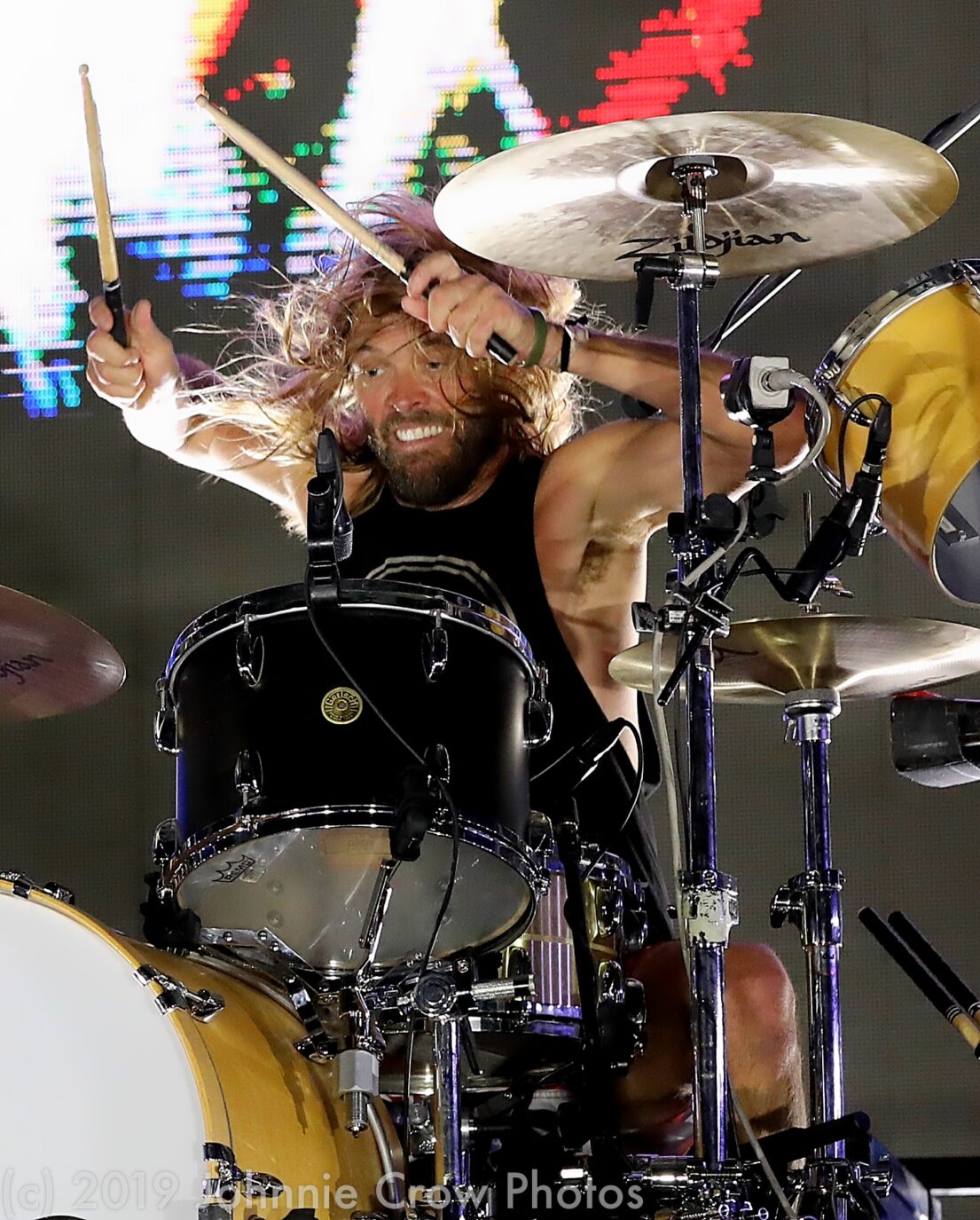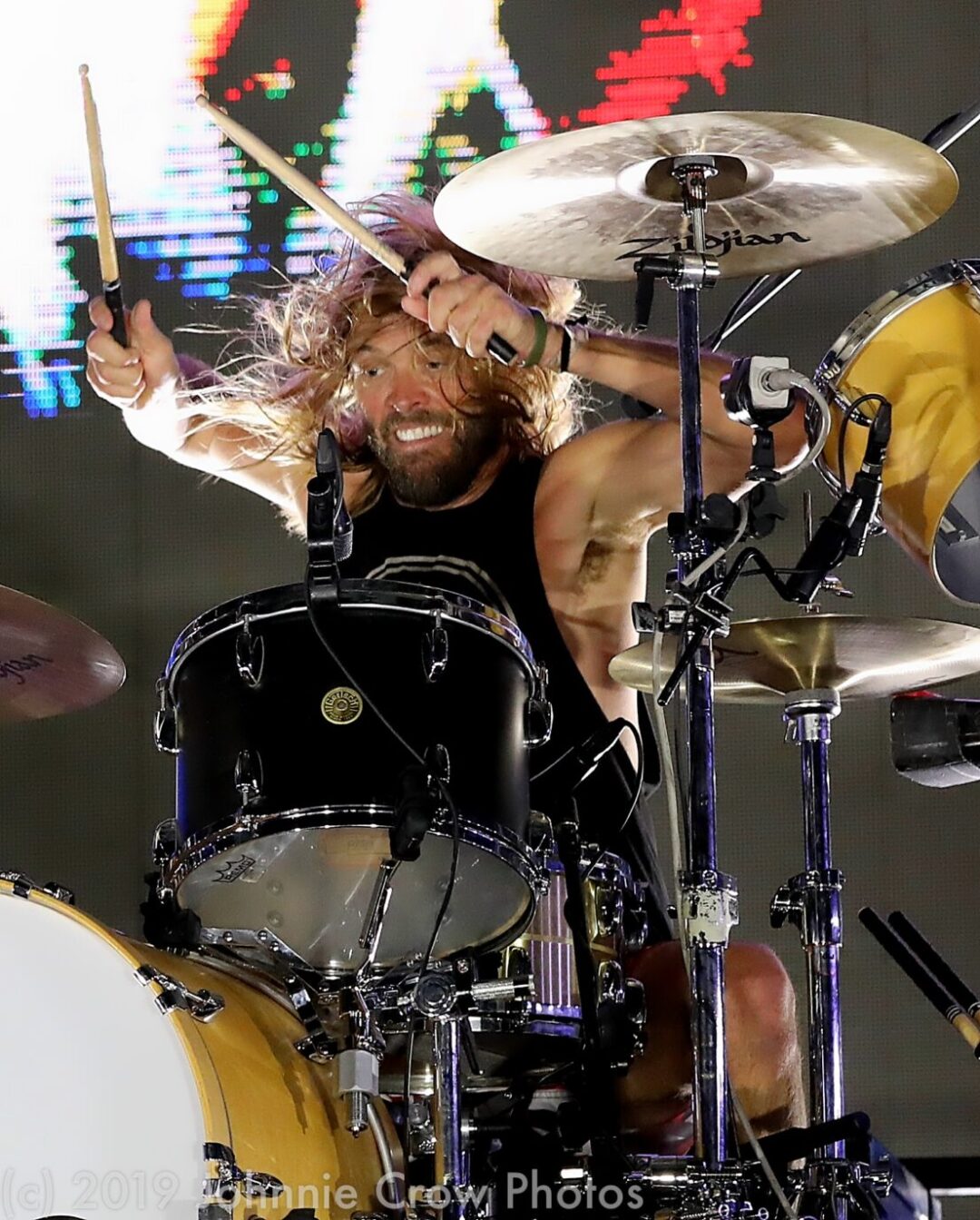 Queen's Brian May and Roger Taylor then emerged, as well as Roger's son, drummer Rufus Tiger Taylor from The Darkness. They were joined by Luke Spiller of The Struts, Eurovision finalist Sam Ryder and Justin Hawkins (also of The Darkness) for several Queen classics. Brian May finished the set alone with a 12-string acoustic guitar and the entire Wembley Stadium crowd singing along, lighting the sky with phones and lighters.
Four hours and 30 minutes into the epic tribute concert, the Taylor Hawkins Tribute video was finally displayed for all to remember the pure joy and talent that left us too soon. Then, the Foo Fighters took the stage for what seemed to be an encore, but turned out to be an 80-minute set, complete with guest drummers and surprise guests.
Josh Freese was the first guest, drumming on "Times Like These" and "All My Life". Dave Grohl sang the first two verses and choruses of "Times Like These" accompanied only by an organ and had an extremely difficult time getting through it, nearly breaking down several times and pausing to compose himself along the way.
Once the band and the crowd kicked in, he was able to regain his wild abandon and complete the song with the passion he is famous for.
Travis Barker was up next, crushing "The Pretender" and "Monkey Wrench". YouTube sensation Nandi Bushell, who had challenged Grohl to a drum-off a few years back, did an outstanding job on "Learn To Fly". Rufus Taylor was sensational on "These Days" and "Best Of You"; Rufus bears an eerie resemblance to Taylor — in looks and playing style — and it was not hard to imagine Taylor's spirit being channeled directly through him.
The surprise of the night occurred when Omar Hakim took his turn behind the kit and who should walk out to perform, but Chrissie Hynde and her friend Sir Paul McCartney. The played "Oh! Darling" and "Helter Skelter" to the amazement and delight of all witnessing.
Shane Hawkins was the final drummer to play, honoring his father with a stellar rendition of "My Hero". The crowd was in full throat — no easy feat after singing and chanting for almost six hours straight. The crowd once again lifted Dave Grohl's spirit and performance as he sang along with them on "Everlong", accompanied only by his guitar.
All of the musicians took the stage for a final bow and a final shout-out up the stairway to heaven to their fallen brother, the never-to-be-forgotten Taylor Hawkins. The entire event is available for streaming on Paramount+. The Taylor Hawkins Tribute Concert ticket and merchandise sales will benefit these charities chosen by the Hawkins family. The London tribute may have come and gone, but the Los Angeles sister show is on the horizon. If you'd like to support directly, follow the links below.
Donate to the cause:
Links: Facebook | Twitter | Instagram | Website