Incubus mesmerizes Mountain View, CA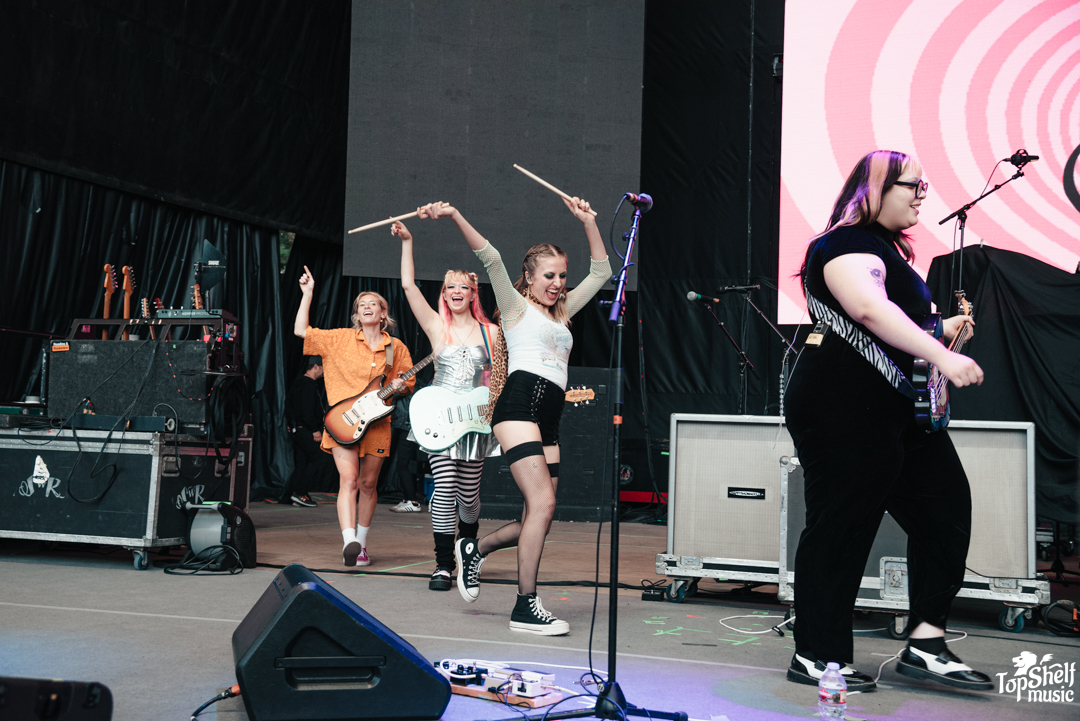 On Friday August 26th, Incubus brought their summer tour to Mountain View's Shoreline Amphitheatre, with tour support from Sublime With Rome and The Aquadolls. This was the sixth show back after four shows canceled, due to Incubus lead singer Brandon Boyd throwing out his back and unable to move. Boyd shared the news to fans via Instagram video stories after many fans were left wondering why the shows were canceled and if anyone had gotten COVID. Boyd explained he would be "back in the saddle soon" and would probably have to sit for portions of the set.
The day of the show in Mountain View was your ideal California summer day: perfect sunny weather for an outdoor concert on a Friday night.
The Aquadolls kicked things off at 7:20pm and packed a punch, with upbeat catchy tunes delivered with smiles and good vibes. I don't know if it was the tattoo of Buttercup from The Powerpuff Girls on the bassist's arm, but this band reminded me of Josie and the Pussycats, The Powerpuff Girls and Lindsay Lohan's band from the movie Freaky Friday — all rolled into one. The 90s and early 2000s vibes were high and nostalgic. Speaking of Freaky Friday (the 2003 version with Lindsay Lohan and Jamie Lee Curtis), The Aquadolls actually cover the song "Take Me Away", which Lohan and her band performed for the Battle of the Bands in the film. Check out their version on Spotify! The Aquadolls also performed their new song "Beachy", along with songs "Mine", "Our Love Will Always Remain", "Sneaky", "Wander" and also a cover of The Go-Go's "Vacation". 
Next up was Sublime with Rome, who played all the hits Sublime is legendary for, including "Santeria", "What I Got" and "Badfish". Rome took a second in between songs to thank the audience, which happened to include his friends and parents sitting side stage. This was a hometown show for lead singer and guitarist Rome Ramirez, who was born and raised in Fremont — only 22 miles from Mountain View. Rome told the audience how he used to come to Shoreline all the time growing up and even saw Incubus here many years ago. He told the crowd to never stop dreaming, because dreams do come true. Rome then dedicated their new song "Light On" to his mom, who got a closeup on the big screens by the venue videographers and the crowd went wild. When Rome finished the song, he ran over and gave her a hug and a kiss. Original Sublime bassist and co-founder, Eric Wilson was holding it down with some trippy overalls and a hat The Mad Hatter would be jealous of. Drummer Carlos Verdugo was a machine on the drums, while their trumpet player brought it all together for a sound that would make Bradley proud. 
After a short intermission, it was time for the mighty Incubus.
Quick backstory for me: I started shooting live music in 2010, right out of high school, when my friends were starting bands; many of those friends were inspired by Incubus, so without Incubus, I might not have embraced live music they way I have. This was my second time seeing Incubus live, but my first time getting the honor of being able to photograph the band and, I must say, being so close in the photo pit was magical. Mike Einziger, original co-founding member and lead guitarist, was nothing short of amazing on guitar; Chris Kilmore was hypnotizing on the turntable and keys; co-founder and drummer Jose Pasillas, along with bassist Ben Kenney, was tight and tasteful holding down the beat and keeping a solid foundation. All eyes were on lead singer Brandon Boyd, who was still recovering from his back injury.
The set began with "Nice To Know You", "Circles" and "Wish You Were Here", with Boyd serenating from a barstool. Photographers were let into the pit for the next songs which included, "Anna Molly", "Just a Phase" and "Are You In". Boyd rotated between sitting and standing although it made no difference because Brandon Boyd is an incredibly expressive singer; you could see the intense emotion emitting from him as his was singing, regardless. Next, the setlist included "Sick Sad Little World", "Stellar", "Megalomaniac", a tour debut of "Nowhere Fast", "Mexico", "Pardon Me", "Karma, Come Back", "Vitamin", "The Warmth" and "Dig", all leading to an encore of "Warning" and "Drive". There is a beautiful moment during "Mexico" when all the band members left the stage except for Boyd and Einziger with his acoustic guitar. Brandon Boyd started the song by welcoming Mike to his side and putting his arm around him, before telling the crowd how thankful he is for Mike who he started Incubus with him back when they were high school age. After playing together for decades, to me, it's obvious how effortlessly they all speak the same musical language and share a love for their band, their music and — above all — their fans. 
Photography by Katey Schoenberger