Sleeping With Sirens fills San Diego's Observatory North Park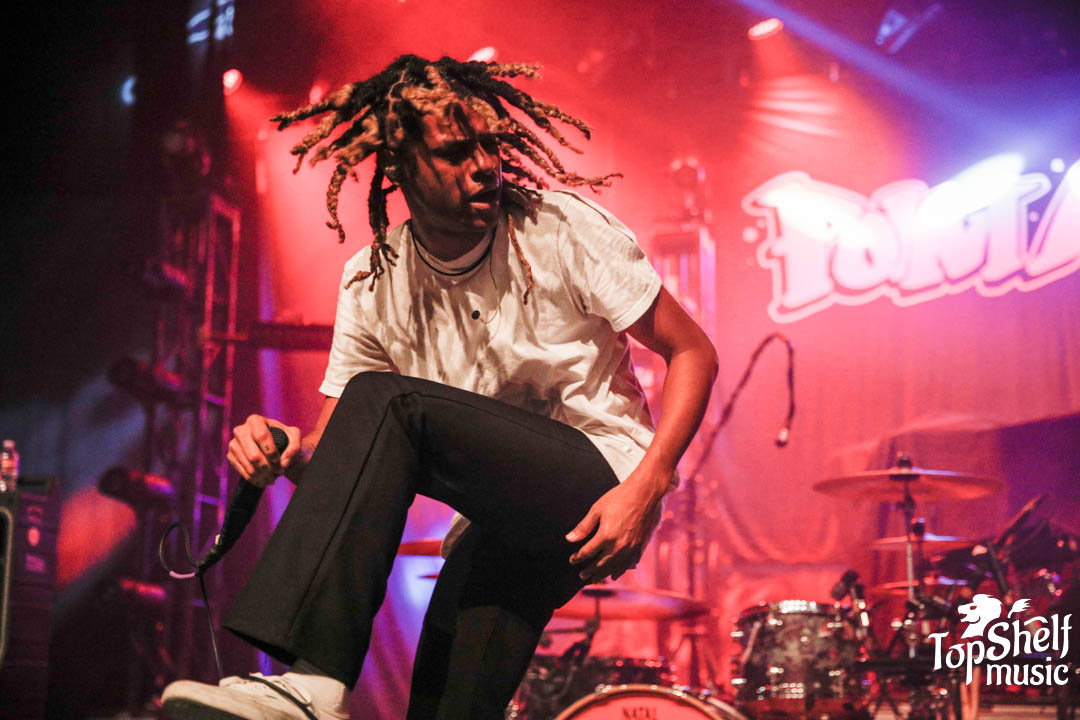 The CTRL+ALT+DLT Tour — including Sleeping With Sirens, Don Broco, Point North and Garzi — played a sold-out show at San Diego's North Park Observatory. We saw Garzi earlier this year, when he supported Zero 9:36 on tour; he hit a few obstacles on that tour and didn't have a band, but still performed with tracks. We loved his drive and determination, and that alone made us a fan! It was so good to see him with a band behind him this time! Joining him onstage was Blake Saul from Fame on Fire (who was also on that tour with Zero 9:36). Garzi told the story of when he was in school: he was that annoying kid and other kids always told him to "shut the fuck up". He didn't listen and kept doing his thing. "I manifested this! Do what you gotta do! Dream big!" His story alone is super inspiring! During one of his songs, Garzi dove into the crowd and crowd-surfed for a while. On his way back to the stage, he grabbed both of my hands for support, which was really cool! He closed out with his song "MESS", which features SWS frontman Kellin Quinn… I was kind of hoping he would come out and surprise us all, but nope!
Point North had a really cool stage set up.
I wasn't quite sure what the aesthetic is called, but it looked like retro scrapyard-ish. They played an audio track before they came on that sort of gave me vibes of waiting in line for a ride at Disneyland! They came out and played hits "Never Coming Home", "Erase You" and then played a new and unreleased song, "Recover"! Lead singer Jon Lundin asked, "How many people's favorite holiday is Halloween? Is it okay if we start a little early this year?" Which, in a crowd full of emos, was a most definite yes! He then dropped the mic… literally! To welcome 'Spooky Season' a little early, they played "Ghost In My Home". Point North also has a song with Kellin, "Into The Dark", and I again was really hoping he would come out for this one… but, nope! 
In between sets, whoever was in charge of the house music kept 'Rick Rolling' us: they would play songs like "Welcome to the Black Parade" or "I Write Sins Not Tragedies" with everyone in the crowd was singing and then right before the choruses hit, they'd cut to "Never Gonna Give You Up". We no joke heard that Rick Astley song at least five times that night.
Up next — all the way from Bedford, England — was Don Broco!
Their stage presence alone was just so fun and groovy. Lead singer Rob Damiani's outfit looked like he was a dad on vacation. With the collared shirt tucked into sweatpants and a fishing hat, it was definitely a vibe. They closed their set with "T-Shirt Song" and, during this song, it's tradition to take your shirt off and wave it above your head during the chorus. The amount of T-shirts in the air was pretty impressive! I just hope some people were wearing something underneath! After Don Broco walked off, the curtain closed. During this break between bands, the in-house music played basically the entire Mamma Mia soundtrack! It added this cute and lighthearted feel to the room as we were all dancing and singing along!
Finally, the curtain parted and the heavy snare flams of "Break Me Down" kicked off Sleeping With Sirens' set with extreme energy! Going into "Better Off Dead", Kellin dedicated the song to anyone feeling lost and alone; it was a song that helped me through a really rough time in my life and it was amazing finally being able to hear it live, knowing that I got myself out of that situation. It just makes me think about all the other people out there dealing with mental health and seeing the healing effects that music has on us all. They then played "Crosses", which is the leading single of their upcoming Complete Collapse album, dropping on October 14th! During "Agree To Disagree", Kellin called for a "wall of death", which was honestly pretty shocking at an emo show! It was definitely a more mellow version compared to others I've seen at some metal shows. Sleeping With Sirens slowed it down for a bit by playing a mini acoustic set, with a couple songs from If You Were a Movie, This Would Be Your Soundtrack and a cover of the Goo Goo Dolls' "Iris." They quickly brought back up the energy by going into "Bloody Knuckles", though! Throughout the whole set, we were all kind of hoping that Vic Fuentes might come out and play "King For A Day", since Pierce The Veil is a San Diego band, but once again, nope!
Sleeping with Sirens ended the night with an encore of "Do It Now, Remember It Later" and, of course, "If You Can't Hang". No upcoming tours have been announced yet, but catch Sleeping With Sirens and Point North in just a couple weeks at Blue Ridge Rock Fest!
Photography by Heather Vandemark; Recap by Kaiya Vandemark