Slightly Stoopid's Summer Traditions Tour ignites Irvine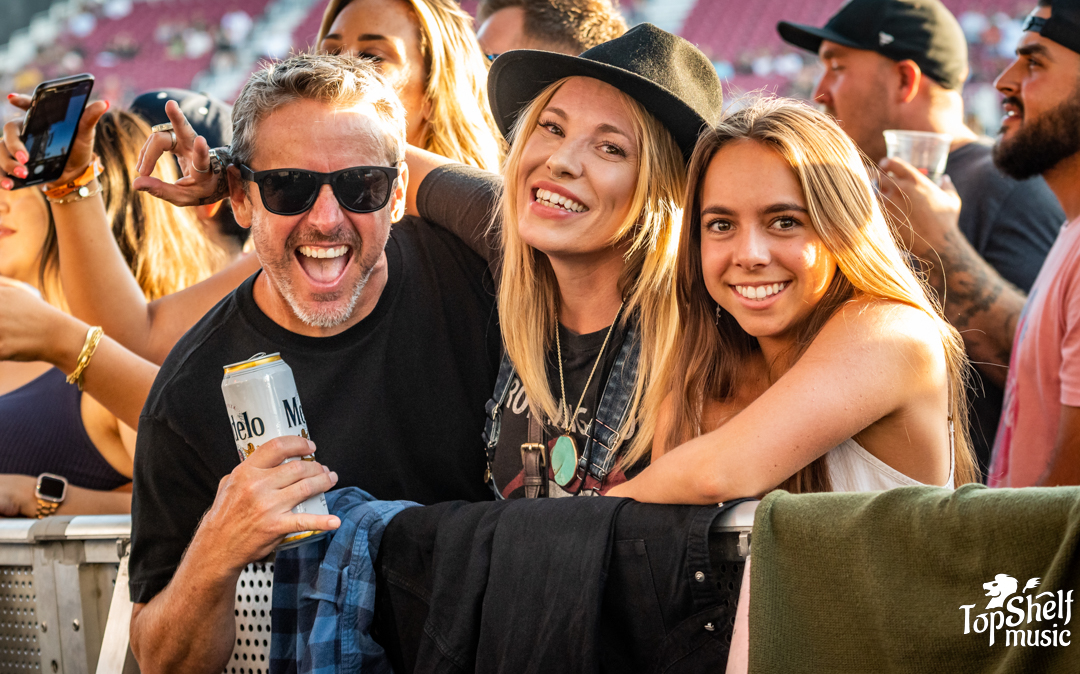 A Friday evening in southern California typically consists of commuters impatiently maneuvering through infamous rush hour traffic in an eager attempt to get home. However, things were different on July 15th, which had commuters heading straight to LiveNation's FivePoint Amphitheatre in Irvine instead.
The reggae community shows up, there is no question about that.
And, that's just what they did for Slightly Stoopid's Summer Traditions 2022 Tour. With a lineup consisting of some of the biggest artists in reggae, all of which have ties to Southern California, it is of no surprise that fans happily gathered in the blistering sun in order to be a part of it. Hermosa Beach's own Fortunate Youth kicked things off. The soothing sound of Dan Kelly's voice led music lovers straight to the rail, where many fans — including Ras-1, formerly of Long Beach Dub Allstars — posted up for the entirety of the evening. Jimmy ​Ovadia, an artistic staple, was seen side stage vigorously painting along to the melodic sounds of fan-favorites, such as "Peace Love & Unity". In true Fortunate Youth fashion, the set concluded with a foot-long treat from We Should Smoke, while the band hyped up the crowd, swapped instruments and jumped around to "Burn One".
Fortunate Youth was followed by Common Kings. With their 2017 debut album receiving a GRAMMY nomination, these proud Orange County Pacific Islanders were met with roaring cheers from the crowd as they took the stage. A new set with a new sound means a new painting from Jimmy Ovadia was needed. The inclusion of different artistic mediums within one performance is an experience that is beginning to take hold across the nation; artists supporting artists is a necessary component to the preservation of art.
The sun began lowering as Common Kings thanked their hometown fanbase.
The cooling temperature is just what people needed in order to match the high energy level of renowned reggae rock band, Pepper. It's because of Pepper that the relationship between concert-goers and performers feels like true friendship. Time and time again, Pepper invites musicians of all popularities and genres to join them onstage, allowing the crowd to get a glimpse of the authentic respect, love and appreciation musicians in the reggae scene all have for each other. It's a rare glimpse that fans hold in their hearts until they are refilled at the next Pepper show.
Headlining band, Slightly Stoopid from San Diego, rejuvenated all the energy that had been exerted during the first three sets. Audience members sang along to every song with such gusto that the reverberation could be felt in the palpitating heartbeats of all attendees. Slightly Stoopid has been creating, sharing and performing music since 1994, when Bradley Nowell (of Sublime) signed the high school band to his own Skunk Records. The now seasoned musicians have perfected the art of musical performance over the years, evidenced by the sensory-stimulating combination of ever-changing lights, bursts of steam and the merging of musical genres found at the heart of Slightly Stoopid. There is still more time to catch the Summer Traditions 2022 Tour, so keep an eye out for a performance in a city near you!
Photography by Jenna Shaw & Sean McCracken; Recap by Jenna Shaw