State Champs storms SOMA San Diego stage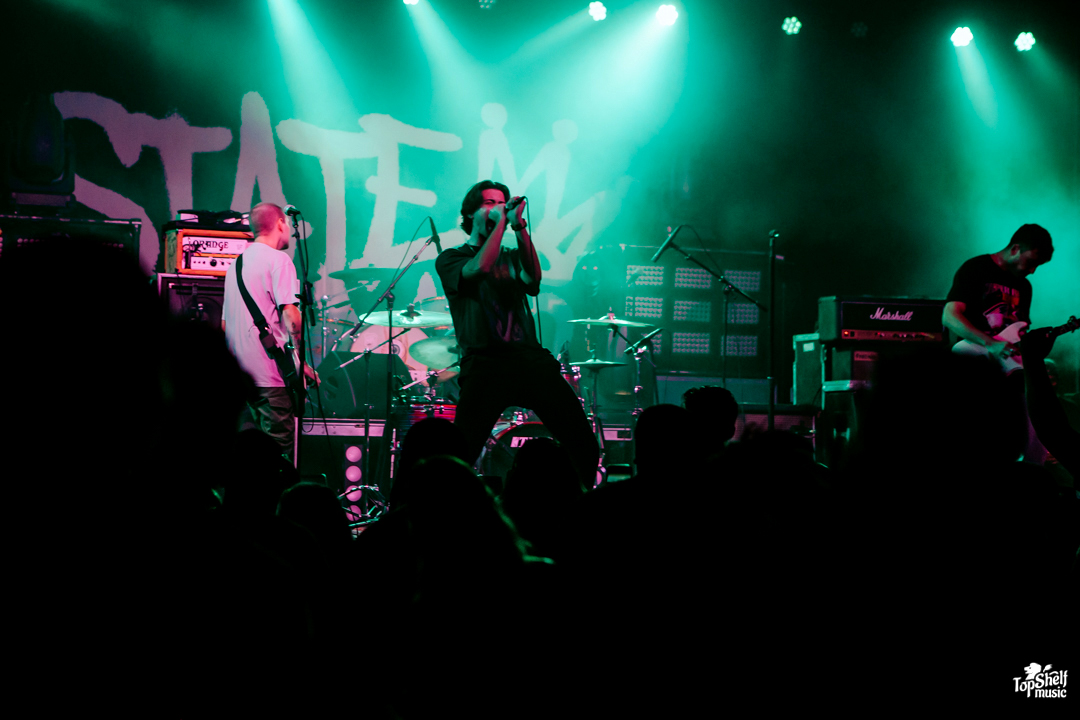 The Pure Noise Records Tour hit San Diego's SOMA in Point Loma on October 5th, bringing an evening of pent-up pop punk that we've all been dying for. With a lineup like State Champs, Four Year Strong, Real Friends, Just Friends and Bearings, it was some pretty fantastic noise all night!
As the crowd began to flood in the doors, Bearings took the stage. Anybody who didn't know this name before tonight certainly went home to put these guys on their next playlists. Bearings proved their point, with unforgettable hard-hitting riffs and energy, setting the tone for the evening. I even saw a few crowd-surfers, which was incredible to see, meaning they were that good and the crowd was full enough for it during the first few songs. They debuted hits off their new album Hello, It's You, including some old favorites like "Blue in the Dark". 
After Bearing's exciting set, Just Friends took the stage.
This was not your average pop punk group. 20 seconds into their first song, I was captivated and honestly completely hooked. The band stirs away from the genre, incorporating a funky vibe that nobody in the crowd can resist. Oh and did I mention the dance moves? The synchronized moves across the stage, performed flawlessly, followed by the entire crew jumping around to shake their butts for the crowd who loved it. The crowd got down and sang along to some incredible jams, like "Flex", "Supersonic" and "Never Gonna Bring You Down". 
As soon as Four Year Strong took the stage and started playing their hit "Heroes Get Remembered, Legends Never Die", the energy in the crowd exploded into a synchronized singalong, squishing bodies against a barricade with crowd-surfers flying overtop. Keeping the original pop punk vibe alive, Four Year Strong put on an extremely upbeat show, with little breaks between songs and the most random, insane lighting setup. There's something about a true punk show that brings out such a beautiful, almost organized chaos. FYS delivered a complete array of songs off their plethora of albums, including "It Must Really Suck To Be Four Years Strong Right Now", "We All Float Down Here" and new songs off their 2020 album Brain Pain, like "Talking Myself in Circles". 
Up next, "Real Friends" ran onto the stage, continuing the explosive energy of the night. Debuting their new singer Cody Murano, the guys obviously had a great connection. Murano proved himself with his insane vocals, as well as his insane grace and stage presence (that mic cord swing, you know?!). Despite the new vocalist, the band still delivered some old favorites "I Don't Love You Anymore", "Me First" and "Late Nights in My Car", in addition to many new amazing hits off their newest album, Torn in Two. 
Last, but certainly not least, our main act State Champs stormed the stage.
The band put risers out to get an even closer view of the full house that came to see them. Complete with smoke effects and streamers during their opening song "Secrets", it was clear the band came to play. The amount of crowd-surfers intensified, the venue got even louder and everyone was just happy, smiling through their screams. The Champs also delivered a vast arrangement of different hits from their many albums, including hits like "Criminal", "Elevated" and (my personal favorite) their Fall Out Boy cover of "Chicago is So Two Years Ago". They ended the night with an epic encore to be remembered, featuring "All You Are Is History" and "Dead and Gone". The guys are continuing their tour through Europe, if you happen to be in that neck of the woods, or stay posted for updates on their newest tour releases!
Photography by Franny Kovacs