The fastest growing festival in southern California is soon to be the fastest growing chain throughout the world. That's right, KAABOO Del Mar is branching out of its SoCal bubble following four successful years at the Del Mar Racetrack in sunny San Diego. Before the 5th Annual hits in mid-September, festival owners have proudly announced two new additions for 2019, instantly making the KAABOO name one monopoly you do not want to miss out on. With new locations in Grand Cayman and Arlington, Texas, KAABOO will undoubtedly take 2019 by the reigns and hail supreme as the leading music and arts festival in the business. First up on the list, KAABOO Cayman.
Go ahead and be the envy of all your friends.
Taking place along the iconic Seven Mile Beach on February 15th and 16th, KAABOO Cayman welcomes music-lovers old and young for two full days of fun in the sun. For KAABOO fans, you've surely heard this news by now. But, why splurge on travel… especially if you live all the way on the Pacific coast? Despite being in Caribbean (do you need to hear more??), here are seven undisputable reasons to take the plunge and book the trip.
1. Escape winter early
Like we said above, you're headed to an island in the Caribbean. Everywhere else is deep in 'six more weeks of winter' mode, whether the Groundhog sees his shadow or not. For those stuck up north, snow was fantastic for the first few weeks… so pretty and magical. However, you can hardly remember what the sun feels like and everyone's grouchy attitude over the past month has driven you up a wall. Speaking of losing it, the holidays have just passed leaving you most likely bitter at your family and hoping for better days. With one more holiday on the calendar (cough, Valentine's Day), you're almost in the clear. Why not celebrate with your loved one in the most epic of all Valentine's Day fashions: attending a world-class music festival getting a tan on an island with champagne and a yacht (if you can afford one) or something else romantic, like extreme dolphin snorkeling. If that's a thing. Go ahead and be the envy of all your friends.
2. The airfare is cheaper than you think
Okay, obviously it isn't recommended to take a hot air balloon to the island, but we digress. The holidays probably has you thinking about how broke you are and how you should save more money this year, right? Well, be honest: on that list of New Year's resolutions, you also wrote down how you want to see the world more next to 'save money'. Everybody loves to travel! The truth is, Grand Cayman island is one of the bigger islands in the Caribbean, allowing it to be a cheaper destination than others. Some islands rack up a whopping $1,700 round-trip; Grand Cayman, you're probably looking at a cool $300-600 if you book now. In fact, six major airlines offer direct flights to Grand Cayman from 16 U.S. cities! Make it down to Miami and your flight is only an hour long and roughly $100. You decide the most cost-effective route to get there and we guarantee the memories of the fest will outweigh the out-of-pocket deficit, 100%.
3. You will be part of first annual fun
Reason #2 brought up a valid point – the memories will be priceless. That said, nobody knows how KAABOO Cayman is really going to go down yet, since it's the first one! If you've never had the opportunity to be a part of a fest's first annual, let us tell you that there will always be some unexpected, super sublime perks. Sometimes, it's more intimate than you expected and all of a sudden, you're hanging out with your favorite artists, since they're just walking around like everyday people! Or, perhaps it is sold out, but the location offers some attractions that nobody has seen yet. Or, perhaps you're the person that starts an annual tradition from here on out! Have you seen the two hot dog girls that run around KAABOO Del Mar? They've been doing that in Del Mar since Year One and KAABOO Cayman is giving you that opening slot.
4. KAABOO Cayman embraces reggae
Unlike KAABOO Del Mar, KAABOO Cayman is actually ON THE BEACH. Kudos to the KAABOO Del Mar team for bringing the beach to the people every year with truckloads of sand at all the stages though! This time around, KAABOO not only has a drop-dead gorgeous setting, but also an amplified reggae lineup to go with it. Maxi Priest, Shaggy, Sean Paul and HIRIE… KAABOO always incorporates some reggae artists on the bill, but this rundown is quite a treat. Plus, chefs are sure to include some Caribbean flair for foodies!
5. Bucket list entertainment at a bucket list location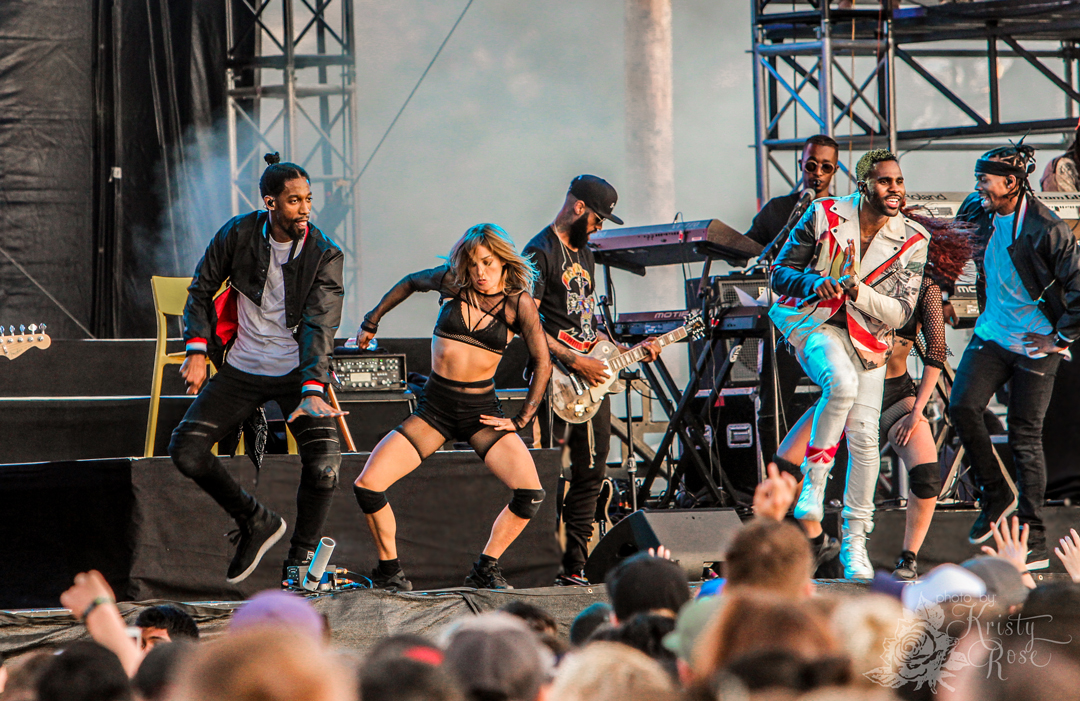 We cannot stress enough that you simply cannot beat KAABOO Cayman's location. Now, double down with top artists across multiple decades and genres like Duran Duran, Zedd, Salt-n-Pepa, Blondie, The Chainsmokers, Counting Crows, Jason Derulo and Flo Rida. Did we mention the comedy lineup? Let's triple down with comedians Norm MacDonald, Kevin Nealon, Darrell Hammond, Wanda Sykes, Natasha Leggero and more. All with a kick-off Amplify VIP Valentine's Day performance by the band who stole everyone's hearts at KAABOO Del Mar 4, Stealing Oceans.
6. Who doesn't want to pop bottles with Flo Rida on a boat?
Okay, so maybe this might not happen. But, you can rent a boat and watch Flo Rida perform from the water. You can also pop your own bottles, watch Flo Rida pop bottles during his set and play Flo Rida on a boat while you think about popping bottles elsewhere. Or, just go for gold and befriend Flo Rida. Choose your own adventure.
7. You still have time
The final and most important reason of all – you still have time to book it! With roughly a month and counting, KAABOO Cayman passes are still available, as well as flights in and out of the island. That said, hotels and AirBnb's are filling up fast, so make sure to look into the trip as soon as you can! Lest we forget about KAABOO Texas in May, so be prepared to get two itineraries going soon. For more information, vist the links below or www.kaaboocayman.com.
KAABOO Cayman official announcement video:
Links: Facebook | Twitter | Instagram | Website
Photography by Kristy Rose & Chris Gomez