The day is here. Not only has the last leg of the upcoming California Roots lineup been unveiled as of this morning, but this particular announcement ends a guessing game a decade in the making – who is to play Cali Roots 10?! Cali Roots X celebrates a wide array of artists in the reggae rock, hip hop and alternative folk industries in the most epic fashion: most of which are familiar names, some new. The fest returns as per always to the world-renowned Monterey Fairgrounds this Memorial Day Weekend, so no surprises there. Bring your kids, brings your friends and bring your camping gear, for this is one celebration you don't want to miss.
…some names were blatantly (and almost inexcusably) absent. Until now.
The first artist announcement shaped the scene when it went live in October, paving the way for two more artist reveals to follow. Big names like UB40 and Ben Harper caught everyone's attention, on top of veteran Cali Roots headliners Dirty Heads, Rebelution and Nahko and Medicine for the People. Not to mention Stick Figure bumping up to a closing spot! Way to go, gents! Between those acts and the remaining names on announcements one through three, it was overly apparent that Cali Roots has stepped up their game for the 10th Annual.
That said, some names were blatantly (and almost inexcusably) absent. Until now. Die-hard Cali Roots fans know that the festival would be incomplete without a SOJA appearance. Reb was on the lineup; where was the other band that started it all back in 2010? Not to worry: SOJA and quintessential Cali Roots warriors Slightly Stoopid are both present and accounted for on announcement four! Other artists who have previously rocked Cali Roots stages set to return are Tash Sultana, Atmosphere, Steel Pulse, Jesse Royal, The Movement, Ballyhoo!, Ocean Alley and For Peace Band. And, without further ado, the grand reveal for the final CRX lineup to round out the entire rundown… Citizen Cope. Newcomer and pop-folk legend Citizen Cope adds an unexpected air of acoustic alternative to the mix. Could Cali Roots be pivoting to a more alt scene over the next 10 years? Only time will tell.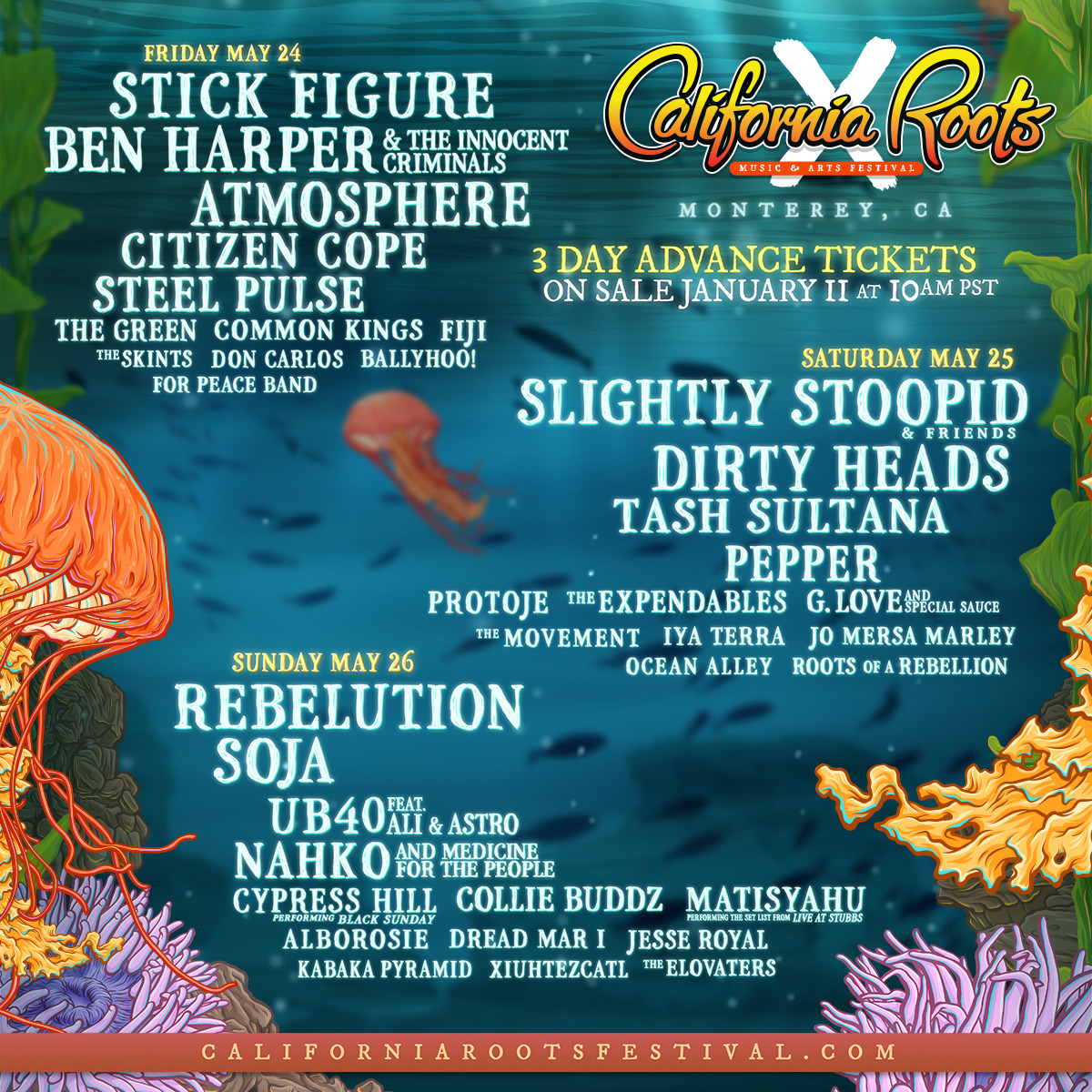 Until then, tickets for the 10th Annual open up to the public as of January 11th at 10am PST. General admission and VIP will be available, as well as single day. Don't forget a camping pass for the full Cali Roots experience. For more information or to snag your tickets tomorrow, visit www.californiarootsfestival.com.
Cali Roots X final artist announcement video: