Some people embark on trips and adventures alone or with family members. For some of us, a vacation is usually traveling for live music. I had far too many bags packed, yet was ready to set out on my short two-hour journey from southwest Florida to stunning St. Petersburg. Planes landing, parking garages filling, normally quaint streets draped in sticker-covered cars and the smell of sweet sensimilla and Nag Champa engulfing the oceanfront area (and about 50 miles surrounding)… Here we go, Day One of Reggae Rise Up Florida 2019.
It's not déjà vu, just my third year in attendance. Mainly local artists were on site creating live and life-sized pieces, each making for the perfect selfie or group picture opportunity. When it comes to art and live artists, this festival has set the standard. Giving back to the incredibly receiving St. Pete community is big in the book of what this fest is all about. The ocean breeze engulfed my hair and sun blared down upon us as we finally made our way to good ol' Vinoy Park. I wish someone had made a slow motion montage of the thousands of people walking the beautifully bold and old-fashioned brick streets towards the venue. It is such a magical place, man. Now onto the music. Xperimento opened up Day One on the SMKFLWR stage, which was located in the Bay Area of the park. The backdrop is the city of St. Pete with a giant port. This vibrant and spicy performance commanded my attention and made me dance instantly. Next up were the native jammers of Guerilla Panic on the same SMKFLWR stage, where the local love was shown as well as received. For the fourth year performing on the main Rise Up Stage, we welcomed another group from St. Petersburg — Oceanstone. These guys show lots of love to their fans and I strongly suggest catching a live show!
Here we go, Day One of Reggae Rise Up Florida 2019.
It was time to run over with a certain 7-year-old to shoot Bret Bollinger of Pepper. Be sure to check out his solo album LoFi out now! The new album is amazing and catching this set was a must. A few hours before his band took to the main stage, Bollinger brought it HighFi to the SMKFLWR stage and to everyone in a five-mile radius. The one and only Josh Heinrichs set out spreading his mission of love and quality vibrations. I have never seen this guy with anything but a gigantic smile on his face. This area, St. Pete, always has a warm welcome for Josh and this festival is no exception; sets like his are the main reason I wish I had someone to love on while the music intoxicates the crowd around me. Next on the Rise Up Stage was a band I didn't think I would ever get to see. Sticky Fingers was the biggest highlight of the entire festival for me, other than JJ, the 7-year-old photographer in the pit beside me. Sticky Fingers definitely took me to another place while opening up with one of the best, "Land Of Pleasure". They played a little bit of everything and, by everything, I mean nothing but the best. The breeze from the ocean 50 yards away was welcomed by all and the set was perfection.
Back at the SMKFLWR stage, I stumbled on Ms. Nattali Rize enlightening everyone in sight. She places her soul on a platter, performing with wisdom and intellect against the rise of Babylon and any forms of discord and dislike. She makes you feel grounded and that is everything. I took on a second solo photographer at that time out of Orlando, Florida. He is tight with most of the bands and accepts the role I've given him as unofficial weekend 'Top Shelf Reggae Rep'. As we approached the photo pit, the crowd was roaring and ready. Leaving it all on stage with a special appearance from KBong, Pepper got the crowd amped to an incredible high. These guys are so fun; you don't just watch them, you vibe with them and feel like you're at a party. Bret Bollinger brought my little assistant photographer onstage and had the crowd show him love. It was pretty outstanding and I couldn't help but think I was slightly outshined, lol. Access backstage for one song turned into the entire weekend for my kid assistant.
Common Kings followed with their slick lyrical styling, paired with incredible melodic and musical tempo. The SMKFLWR stage was getting a beating and it was from all of the funk. 40 years and still going hard, Steel Pulse hit the SMKFLWR stage with the calm of a new moon. Not one person over by the oceanfront stage was unhappy during this set. At this point, I looked up and realized some of the most timeless roots reggae music was speaking soundly with strength through the palms. Amen to these OG's and take note artists just starting out expecting the world and then some — stay humble. I then spoke with a couple I met at the Stick & Movement NYE show in Orlando who are both now in their 70's and think catching Stick Figure live is their idea of a great date night. Can you say relationship goals?! While the sun had fully set into the water's horizon, the stage lights began to dance and Cocoa the Tour Dog entered out to the sold-out crowd of thousands. It was a magical set and all I could see for what seemed like miles was "Smiles On Faces". Stick Figure is a game-changer if you need some chill in your life. Just incredible, as always. Sun kissed and exhausted, zombie-like hippies lined the streets heading back to our hotels, Airbnb's, couches, floors and hommocks. The real champs attended afterparties while I enjoyed an incredible bed early in preparation for Day Two.
The second day began with a shower and a strong cup of Café Bustelo®. I checked my gear and waited as most of my equipment charged. I mentally reminded myself to be in the moment. Those go by so quickly. My friend stayed behind as I left on the six-minute walk to the park from my Airbnb. I saw so many great people in that six minutes that I wish RRUF was once every season. Getting in the festival gates early gives you a great opportunity to check out the environment, artists, vendors and talk with festival workers. Vinoy has some of the best security, (shout out)!!
Day Two started off with Artikal Sound System on the SMKFLWR Stage — a beautiful visual and musical performance. I always enjoy seeing an artist in a trance grooving to their own music. Be on the look out for this band! I find them extremely intruiging and all the ingredients are there. The next set was one of the coolest things most of us had ever seen. In case you don't remember who these beach bum rockers were from the weekend, maybe lead singer J Kool's backflip from a tent top on the stage may help jog your memory, stoner. Serenation are locals who just rock. The amount of energy they bring makes it so hard to look away. If you missed J Kool step it up once again by crowdsurfing for what seemed like five minutes, then you missed, hands down, one of the best sets all weekend. I love this band. By the way, the bassist is a badass chick who holds them all down. Get it, girl!
The sea of people went on and on until it reached the actual ocean.
Another band with the four year RRUF Alumni status is a group I know and love, Summer Survivors, out of Sarasota, FL. I've personally watched this lineup change over the years, but what they have now is 'it'. A new vivacious singer, a drummer with vibes for days and a contagious smile, and a guy who has never let any of it hit the ground. I totally suggest giving these Summer Survivors and the new stuff they are making a listen. I personally can't wait. San Diego natives and friends, Through The Roots, took over the SMKFLWR stage for another ridiculously great performance. The set was smooth and crisp and reminded me that I need more TTR in my life. Arise Roots followed on the Rise Up Stage and gave an incredible live performance, too. I always try to catch these guys when they tour: such good people, vibes so sunny.
Since both myself and my 7-year-old sidekick share the same favorite bands, we pushed through the sea of dreads and patchouli smoke to the best second stage I've ever seen. SMKFLWR, what's up!! It was time for The Movement and we were ready. JJ and myself met two years ago on my birthday during their Sounds Of Summer tour. He was then five with headphones on and the son of some of my favorite music family members. That didn't stop him from being front and center, riding the rail in his mom's arms and jamming to none other than The Movement. We kept in touch and always talked shop (camera stuff) at shows. He's usually captured sitting on the rail in many of my shots. Anyway, JJ went backstage (since every band gave him all access) and asked Joshua Swain, MVMT's lead singer, if him and myself could have all access for the set. Josh agreed. Thanks again, JJ! The set incorporated some stuff off of the Golden album and some new tracks like "Siren" and "Cool Me Down". When you looked out at the crowd, you saw a sea of people and not an available spot in sight. The sea of people went on and on until it reached the actual ocean. So, I guess you could say the crowd was neverending. Needless to say, the boys blew all of us away and Matt Goodwin offered up a guitar solo at the end that was so fucking nuts. Congrats guys, what a set.
There's something about an honest and open woman that is such a beautiful and empowering thing. Some may even call that woman a queen… or Patricia Jetton, leader of an incredible band of loveable misfits and otherwise known as HiRiE. In six-inch heels and with daughter, Beija, watching intensely, HIRIE moved a crowd of people off their feet. Not only is the music she and the guys make real, intense and unapologetic, it is also five star. HIRIE took time from her set to touch on mental health, addiction, love, loss and life as we have a female revolutionary on our hands. Never stop HIRIE, much love.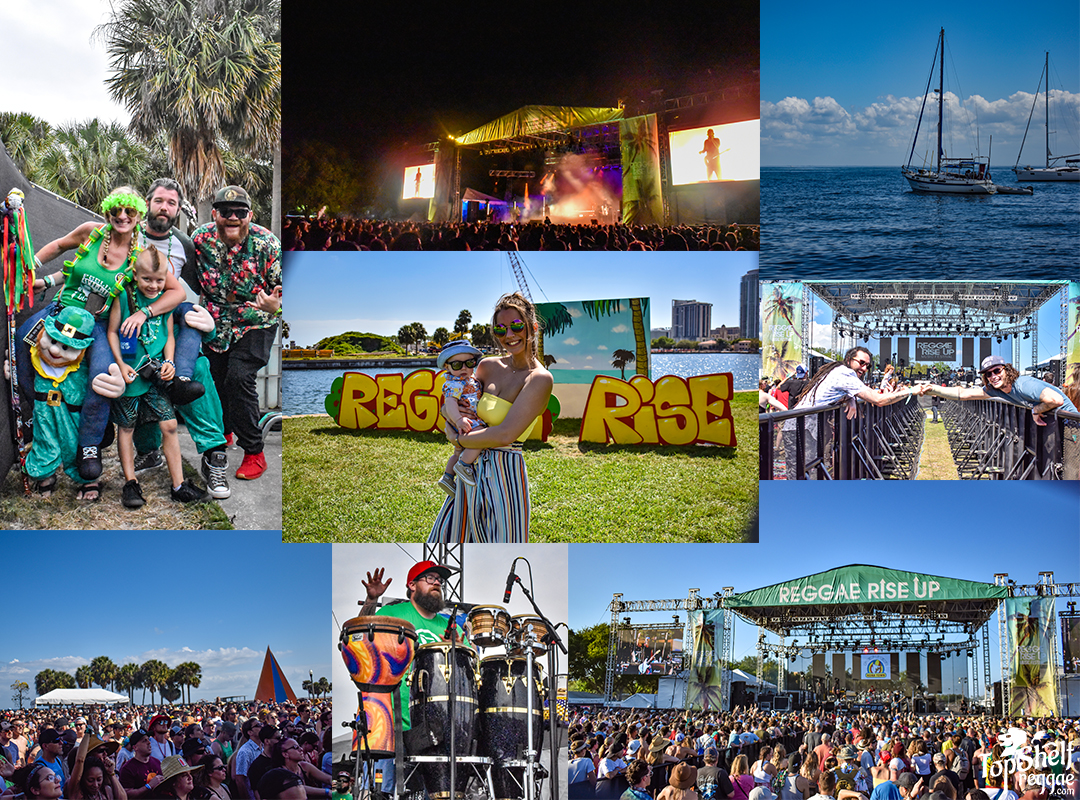 I have seen J Boog on a number of occasions and I truly feel each time is better than the last. Another heavy-hitting artist who simply coexist with others so cohesively. I don't know anyone who doesn't enjoy a good J Boog set. Ziggy Marley has a calming vibe that I very much appreciated as the sun went down and the wild things began coming out to play. There is a certain vibe and mystique to the Marley brothers and I find them, as well their individual performances, captivating. I have been listening to next duo since middle school and they sure did come out swinging. Method Man walked out first as Redman followed. They played back-to-back bangers, shared spliffs with the crowd and spit water at all of us. What if I told you I didn't wash my hair and just re-straightened it? For some, that performance had to get cut short to head back over to the main stage to see another favorite and groundbreaking band, Slighty Stoopid. The evening was made as soon as I saw the red solo cup get lifted up to cheers the crowd. Slightly Stoopid ignites a fire in many of us and it becomes more than just music. I left the pit and sat in a chair in the back for the remainder of the set. All I could think about was how lucky I was. Don Carlos made a very special appearance and brought with him a smile for days and a sequin jacket that made us all look sloppy. I stayed and talked with Cocoa for a little then made the short trip back to that comfy bed, legs feeling like solid tree trunks and I was off to sleep.
If you have read this far, you are correct in assuming I did not break my face this year (reference RRUF Day Two 2018). Day Three, otherwise known as St. Paddy's Day, could not offer me enough caffeine. But, hey, JJ and myself had another full day ahead of us and we handled it like pros. The Honey Hounds surprised us all and, in the same token, gave us what we needed. A change-up. The band threw us a curveball and I definitely want to see more from them. I caught Tribe Of I with some friends and I could not stop saying how great they were! Now that I've heard them live, I'm spoiled. They're so good and the diversity was unique enough to catch my full blown attention. Hopefully, they set an east coast tour soon. Jah 9 was relaxing after a walk in the hot sun. The rain subsided for the weekend and we were grateful. Bumpin Uglies has grown so rapidly in size that someone in the crowd even held a "Play Dayman" sign. One of my faves out of Maryland, this band is what you should strive to be if you are in the pursuit of musical success. The set was insanely amazing: the crowd knew every word along with myself and it felt like home. No matter what type of music you like, you will never be able to deny the talent — musically and lyrically — that Uglies puts out. Check out their new EP Buzz out now and thank me later!
I thank you all for making this event grow more and more each year.
Since 2008, I've been 'buzzin' over Shwayze and his "Corona And Lime"-themed style. This was such a fun set and it definitely brought me back to a much simpler time. Keep touring, man, I loved it! All-around fan favorites was what was left of the RRUF19 lineup and the un-official St. Patrick's Day band, Fortunate Youth, had a performance of a lifetime. Equipped with a proposal of two wonderful souls, Fortunate Youth is one band that steadily brings love to the darkest of paths. Absolutely nothing was different about this performance. These guys are another group of kind and genuinely humble humans. The set was incredible and made my day.
The SMKFLWR stage was about to get its worst beaten yet as Iya Terra hit the stage. I have been following this band the longest and they have moved actual mountains in the three short years I have been a fan. Another set in which the crowd knew every single word and sang them all. Tribal Seeds put on a seamless performance for the second year in a row at the main Rise Up Stage. This band is predictable in the sense that they are always great; they own the music they play and have honed their craft to perfection, in my opinion. Shout out to their videographer and my personal friend, Jozer! His work is on point. Trevor Hall is for lovers. I don't know what else to say on this topic. Talent like his is unparalled and you feel each emotion, each riff and each pause. When you feel the music… thank you, Mr. Hall.
As I left, I gave my best bud JJ the camera I had shot so many shows and monumental experiences with. I had named her Clementine about eight years back and told him she needed to be looked at, but worked fine. I gave him the camera and told him not to change her name. He agreed and smiled from his heart. Here's to supporting each other. Closing up this wonderful time and so many's lives was none other than Rebelution. I had to catch my Lyft home as Reb hit the stage, but I heard about three songs as I waited a little ways up the street. The stars were shining like they had something to prove and my mind was drifting to my home and the reality I had waiting for me. I thank you all for making this event grow more and more each year. I thank you for your smiles and laughs, your stories and triumphs, as well as the hardships and raw honesty. Until next time, Reggae Rise Up 2019 is a wrap.
Photography by Jay Cohen