What a better way to celebrate summer than doing so with fine wine and dining out in the sunshine? Add in some of the top deejays and musical acts of all genres and you have Blended Festival — a classy and multicultural multi-day extravaganza hitting three new cities in 2021! Starting August 13th and 14th in the musical mecca of Nashville, Tennessee, Blended Fest pops off its tri-city tour in lavish and luxurious style.
Did someone say 'free wine tastings' for all?
Now, very few of us are made of money, especially after a year of quarantine and probable unemployment. Luckily, Blended Fest has your back, for even general admission patrons get two free wine tastings on the house with the price of a ticket! It all starts in the middle of Nashville's state-of-the-art First Horizon Park baseball stadium on Friday, with a 100-foot wine tent featuring over 30 wine blends and a full bar! Settle into the day with the sounds of Jack Vice, Deuces Wild, CAPTN20, IAMNOEL, Kylie Frey, Quill, Blake Hortsmann, Shaylen and Brandi Cyrus. Blended Fest knows better to drink on an empty stomach, so make sure to check out the convenient Culinary Stage, where mixologist Charles Joly joins gourmet chefs Logan Baird and Ashley Grimm (you might even pick up some Nashville country star culinary impressions when you do!!). Back on the main stage, EDM stars Blanco Brown and Bryce Vine wind it up before rap legend Lil Jon takes the helm as headliner. Talk about a turnt up time…
If that wasn't enough for you, there's Day Two. Celebrity guests will be joining the Culinary Stage, as mixologist Greg Innocent cooks up some concoctions alongside renowned chefs Scott Baird, Rebecca Wood and Josh Cook. Slim McGraw, Stretch, Cisco, DJ Shift and Moonlander start the music for Saturday afternoon patrons, before After Midtown, Kim Lee, Brody Jenner x Devin Lucien, SZNS, On The Outside, Ernest and Cat Dealers spin you into the evening. Matt Stell is set to perform with a yet-to-be-announced direct support act before EDM heavyweight Kaskade corks the weekend for all.
Tickets are flying fast, but are still on sale for next month — so, we recommend you don't wait! Of course, VIP and bottle service options are available for an additional fee. Don't live near Nashville? Never fear! Blended Fest is on course for Austin, Texas and San Diego, California next. For more information or to lock down your Blended Nashville passes now, visit the links below or www.blendedfestival.com.
Festival map: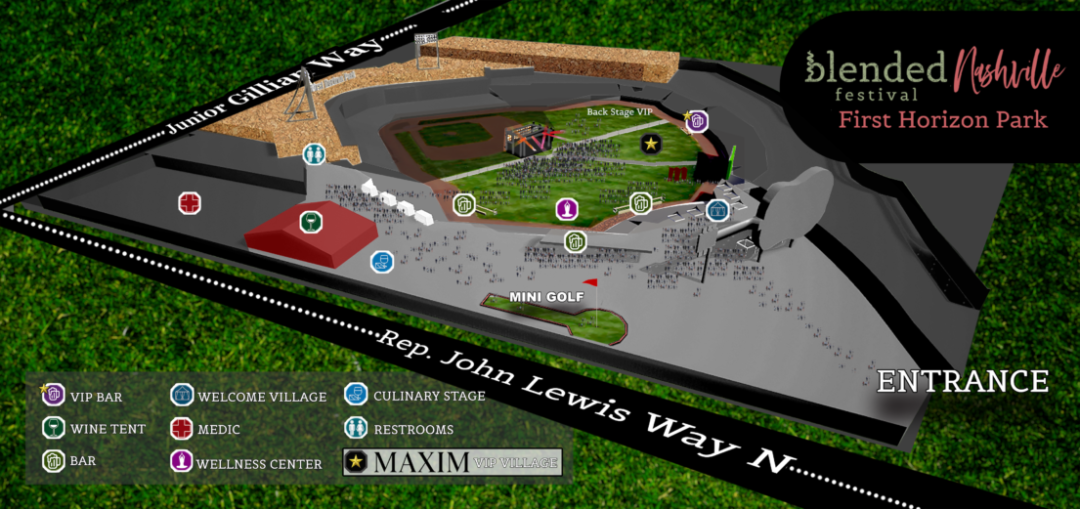 Blended Festival 2019 recap video: