Summer is heating up in South Lake! California Roots has partnered with Hard Rock Hotel and Casino Lake Tahoe to bring you a reggae lineup of straight fire to the famed venue on the water. Pan-reggae heavy-hitters Slightly Stoopid, Dirty Heads, SOJA, Tribal Seeds and Common Kings join forces with hometown-and-beyond favorites Fortunate Youth, Artikal Sound System, The Elovaters, Lizano and Squarefield Massive Sound on July 24th in an all-day party that's sure to turn all night! Held at the Outdoor Arena, these grounds boast picturesque views and tons of trees. 
If you just wrapped up your Memorial Day weekend in Monterey, you might already be itching for more reggae fun, especially those vibe-on-point events we have come to know and love from the Cali Roots brand and their aptly-named sister production company, Good Vibez Presents.
Lake Tahoe Reggae Fest is just what the doctor ordered — local to NorCal, with affordable tickets and a family-friendly atmosphere to boot. 
"Building this lineup was a lot of fun and we are confident we will deliver not only a world-class lineup, but a world-class experience for the fans," says Dan Sheehan, CEO of California Roots Festival. "All the bands are so excited to be playing Lake Tahoe this summer!" California Roots Festival is the largest reggae festival in the United States for the last decade and is widely regarded as a bar-setter for the American reggae scene.
There's a lot to be excited about for artists and festival-goers alike. New for 2022 is a local artist stage, a faux grass floor, beautiful shade structures and sails, as well as a vendor village, artist paint wall and great food and beverage offerings. No word yet on specific vendors, however there is an extensive list of dos and don'ts you can find here.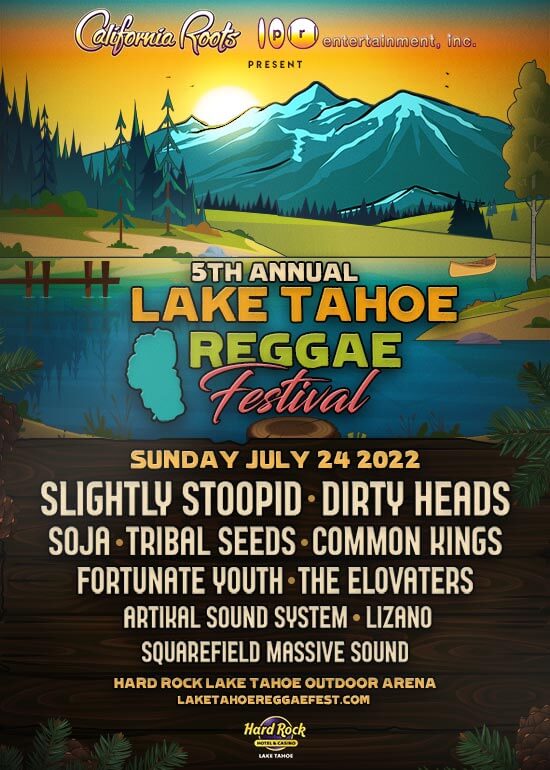 After so much time away from live music, it's refreshing to see festivals — especially, these one-day quick-hitters — make a bold return to the event calendar. PR Entertainment, Inc. president Paul Reder says, "It will be wonderful to celebrate live music again in a setting that's unbeatable anywhere in the world." Reder founded the Lake Tahoe Reggae Fest in 2013. VIP wristbands are sold out, but you can still purchase General Admission tickets for $95 or bundle your ticket with Saturday's General Admission event, Bass Camp Fest, for $167. For accommodations and lodging packages, check out options here or visit the links below.