When you put camping with your friends and family, tasty craft beer, and some of your favorite reggae and hip hop artists into one weekend, the result is always going to be a great one. And, that's exactly what everyone who attended Dry Diggings Fest over the Labor Day Weekend got to experience. The festival was founded by none other than California Roots' co-creator Jeff Monser, so it is of no surprise that this was the third year of success for Dry Diggings. "My goal is to bring the locals out and create a backyard atmosphere type of party, yet with headlining talent and little fluff," Monser explains. "We're simply out to create good times, with great vendors, music, food, brews and lots of smiles. It's in the same fashion I launched Cali Roots and that good intention is what brings the family vibe for all to enjoy." It was definitely easy to see and feel that this goal of his was successful.
"We're simply out to create good times, with great vendors, music, food, brews and lots of smiles…"
Although temperatures in Placerville, CA reached well into the triple digits that weekend, people still showed up early to enjoy the first few bands of the day. Music started at 10am and the first performances included J Ras, Maui's Inna Vision, and ¡Mayday!. The Expanders cooled down the pace a bit with their old-school roots reggae sound. However, most of the sounds from Day One were definitely influenced by the islands. Spawnbreezie, Anuhea, Sammy J, and Common Kings played into the afternoon. Common Kings' explosive stage presence was followed by Dilated Peoples – an underground hip hop band formed in the 90's. As the sun finally began to set, more people gathered around the stage to dance to Dilated Peoples' classic hip hop beats like "Live on Stage" and "Worst Comes to Worst" as well as new tunes off their album Directors of Photography. Next up was dancehall reggae legend, Barrington Levy. Mr. Levy's stage presence commands the attention of the crowd. His high-energy performance makes it almost impossible to stay sitting during his set and at the very least, his humorous mannerisms on stage make it even harder not to smile. Mr. Levy made it clear he was there to sing for the people, so he just kept on going until they turned his mic off. The crowd loved it and him! Shifting from Barrington Levy to The Expendables was quite the change in vibes. The Expendables once described themselves as, "reggae had sex with metal, punk got in the mix and ska videotaped it all. Then, out pooped The Expendables." And that's pretty much exactly it! This multi-genre band often mixes it up throughout their set, and even throughout each song. That aspect, along with lead singer Geoff Weers' amusing stage presence, made for a very entertaining performance. Matisyahu had the honor of closing out Day One of the festival. It was another big change in genre from the previous artists that day. Matisyahu's performance was trance-like. It's one that allows you to just zone out and let the music move you. His obvious influence of reggae is blended smoothly with beat boxing and rapping. Although Matisyahu's live performance has changed a lot throughout the years, he always delivers a unique set that anyone who appreciates music can enjoy.
Just as campers began to climb out of their tents and the festival gates opened, the band Kash'd Out came on to start off Day Two. This reggae rock band has been causing a splash in the reggae scene with their catchy lyrics and feel-good rhythms. Iya Terra is another band that has been quickly rising. The guys mostly played songs off their newest album, Sacred Sound, but also added in a cover by dancehall legend, Anthony B. They never fail to squeeze in some killer guitar solos as well, especially during their outro. Local bands Thrive and Arden Park Roots jammed into the early afternoon, while most sought out shade on a grassy hill. Southern California locals Seedless and Tomorrows Bad Seeds were up next. Both of these bands have successfully combined hard rock with reggae, making for a diverse performance that will have you head banging to one song, and skanking to the rhythms of the next. Out of all the bands from the weekend, Orgone stood out to me the most. They were one of the only bands I had never heard of before, and this funky jam band was a breath of fresh air – definitely making a great first impression! Dilated Peoples member, Evidence, showcased some of his solo music and kept the crowd hyped after a long day of music in the sun. But, some of the best performances were still yet to come. Josh Heinrichs' soulful voice perfectly delivered messages of spreading good vibes and, of course, his undying support for ganja and its healing powers. The Long Beach Dub Allstars paid tribute to legends Sublime by covering many of their classic songs, especially fitting considering this band was formed by the remaining members of Sublime after the passing of Bradley Nowell, in addition to playing some of their originals.
I was fortunate enough to get to sit down with Nahko moments before his performance and ask him about his upcoming album My Name Is Bear, which will be released on October 20th. Here's what he said about the future of his music:
TSR: So tell me how this album will be unique from your previous work? I've heard it's a special one.
Nahko: Yeah, it is. This is like a solo record, even though the band is playing on it. But, it's really cool. I have this whole back catalogue of music that hasn't really ever been recorded. So, I just wanted to take the time to finally give it some life, ya know? It's a prequel to all the newest records. If that kinda helps put it in perspective? It's the story from before; it's the songs that helped me write all the Medicine songs that you know now.
TSR: That's really awesome. I'm looking forward to hearing it!
Nahko: Thanks J
TSR: So, where do you see your music evolving in the future after this album?
Nahko: Definitely alien… kind of like intergalactic dimensional sounds. Like frequencies that we don't even actually know about.
[indecipherable comments, followed by laughter]
Nahko: You know, I feel like I love all kinds of music, so I want to make a hip hop record or make a pop record or I'll just make records that have all kinds of different weird things in them. [The music is] definitely gonna get cooler, which means weirder, which means funner. Is funner a word?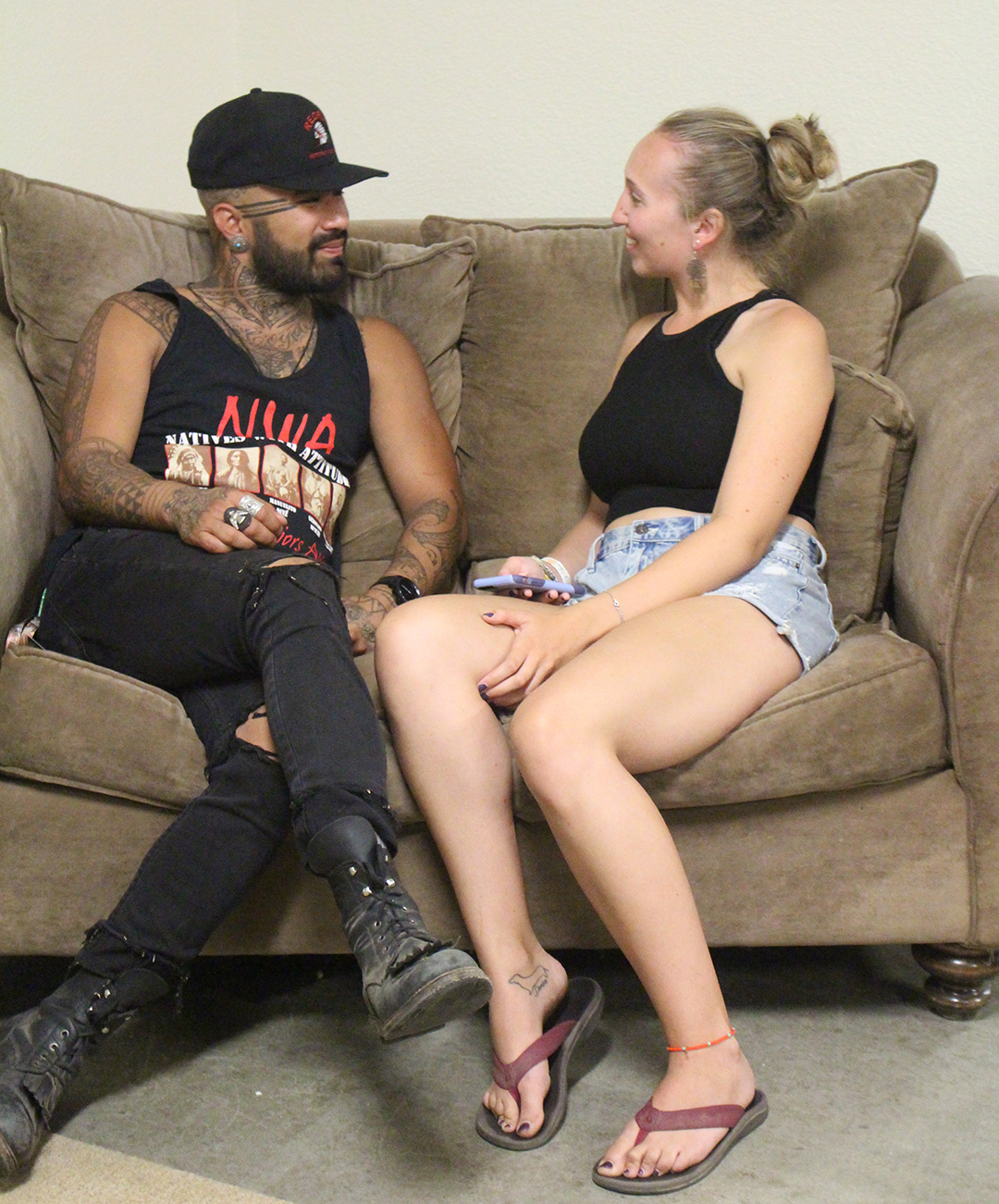 Nahko & Medicine For The People will be doing a US and European tour starting in October, and you don't want to miss out! They definitely had one of the most anticipated performances of the weekend. Their set was extremely powerful and dynamic, from the messages rooted within their songs to emotion-filled violin solos by Tim Snider. Nahko effortlessly connects with his fans through his uplifting lyrics and strong stage presence. This band is more than just a group of musicians; they are activists for injustices in the world, and that is what makes their performance so unique. But, the day STILL wasn't over. Roots reggae veteran, Don Carlos, came out to rock the stage and close out the final day of the festival: the perfect vibe to finish this end-of-the-summer festival. Top Shelf Reggae thoroughly enjoyed this event, even in the extreme heat, and we look forward to attending and covering next year!
Photography by Austin Shipley