Having to delay their inaugural fest from 2020 to 2021, Rebel Rock Festival is finally (almost) here!! This new rock and heavy metal fest will take place September 24th through 26th at Orlando's Central Florida Fairgrounds, kicking off on Thursday with a Taco Metal Party hosted by Jose 'Metal Ambassador' Mangin. Volbeat just got announced to be Thursday's headliner, along with other performances by P.O.D (playing Satellite in its entirety — their highest selling album!!), Slaves (currently undergoing a rebrand with a new name and music coming soon!), Erra, Otherwise, Sons of Texas, Kyng, Greyhaven and more!
Tacos, margaritas and rock?! It can't get much better than that!
The actual festival starts on Friday and includes headliners Machine Gun Kelly, Limp Bizkit, Papa Roach, Five Finger Death Punch, The Used, Rise Against and direct support performances by Skillet, Motionless in White, Pop Evil, Hatebreed, Underoath, Killswitch Engage, Escape the Fate, Sevendust, Anti-Flag and more! And, that's just a handful of talent featured throughout the weekend.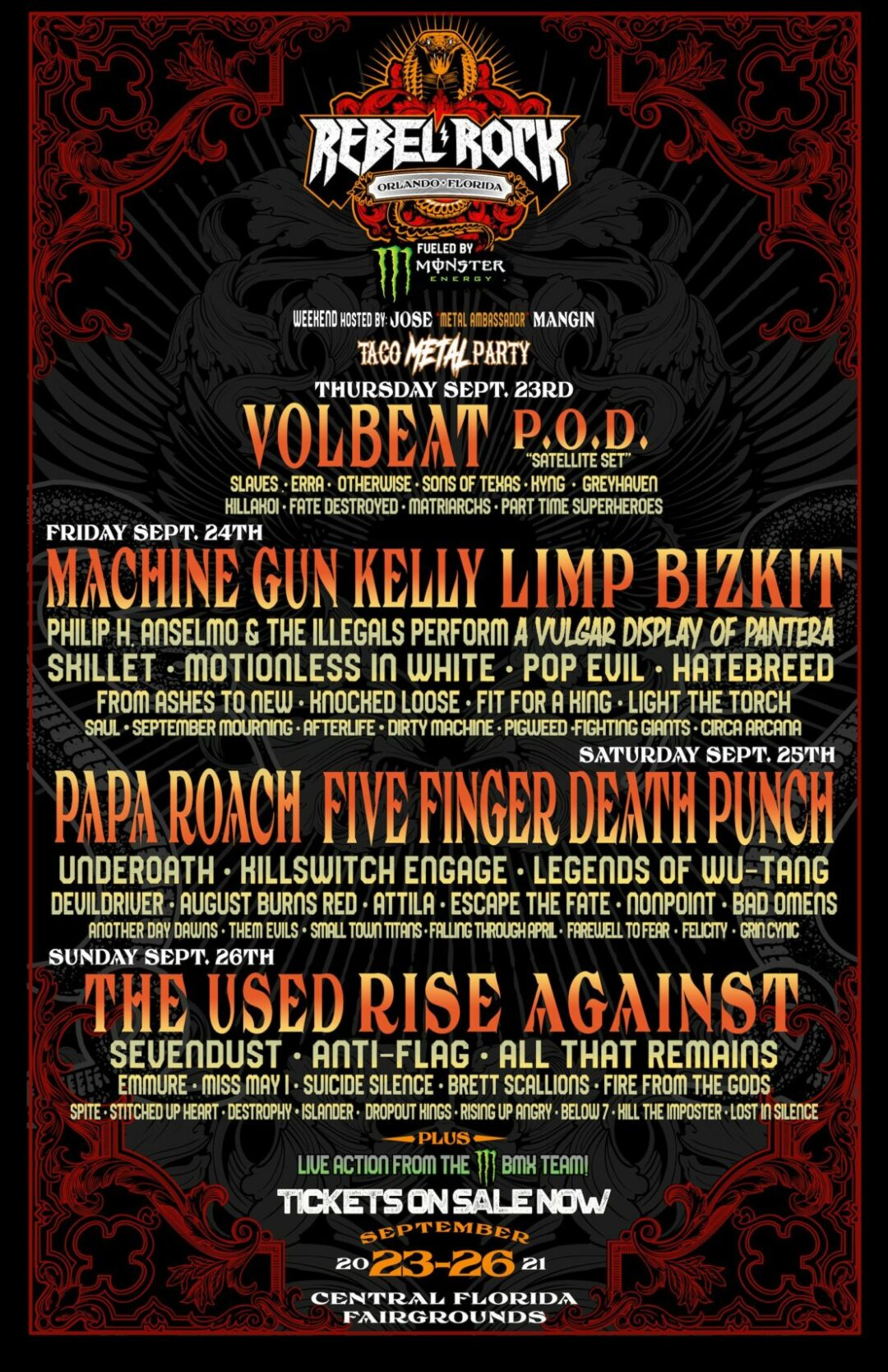 The festival is further featuring some experiences you can enjoy other than the music, one of those being The Monster Energy BMX Experience. You'll be able to watch the BMX League's crazy talent as they do jaw-dropping stunts! This event is available for two days at the festival and it's free for all Rebel Rock ticket holders. Another can't-miss experience is the Even the Odd (ETO) event. ETO is a live arts and music show that also includes freaky side shows and tattooing! It looks like a real good time! Come witness the FIRST EVER Rebel Rock Festival in Orlando by snagging your festival passes today (before they're sold out!!). For more information, visit the links below or www.rebelrockfest.com.
Rebel Rock Fest 2021 announcement video: