Sometimes I have to sit back and genuinely think about the fact that I have a really cool career. It allows me the opportunity to work with and run sound for some of the best bands around. Both local bands from here in St. Louis that always impress, as well as national touring acts that I have been jamming out to, literally, since high school. The rough load-ins, sound checks that go too long, and exhaustingly late nights get made up for by having the best seat in the house when the lights go up and getting to listen to some truly wonderful tunes. March 16th was another one of those "I have a cool job" moments. 
I ran sound for the SoCal-based reggae/hip-hop trailblazer Shwayze when he brought his boys, Of Good Nature from North Carolina and The Wide Eyed Kids from San Diego to Blueberry Hill's infamous Duck Room in St Louis for his Spring Fling Tour. Believe me when I tell you, if you weren't there or haven't gotten to see a Shwayze show yet, you are missing out on one hell of a party. Shwayze, backed up by his excellent drummer Daniel Gallardo and outstanding guitarist Tony Barker Stern of Bikini Trill, absolutely crushed it and made sure everyone left with the biggest smile on their face along with a hug and a picture if they stuck around. This is my second time seeing him in 4 months – after going 15 years without seeing him at all – and the reputation from those old school Vans Warped Tour days seems to have lost no footing because Shwayze definitely knows how to bring the vibes. 
Starting the show was The Wide Eyed Kids, a reggae trio who is bringing a refreshing authenticity with their unique sound to this tour. Being formed in Hawaii but currently based out of San Diego, this band has a bright future ahead of it after this Spring run.
The Wide Eyed Kids spread love and respect like few others these days, and with a personal mission of helping others create their own path.
It's all about a calming positivity with this group of gentlemen and it shows in their music. Erik Ekman, Chandler Norton and Landon Chung got the vibes going immediately with their trippy vocal effects and smooth electric guitar riffs, backed up by simple but precise drumming that held it all together very well. I noticed many of the new people walking into the venue as The Wide Eyed Kids were playing who immediately started nodding their heads with hands in the air, dancing their way to the middle of the floor, instantly ready for the night. These guys really are worth a listen and they aren't slowing down!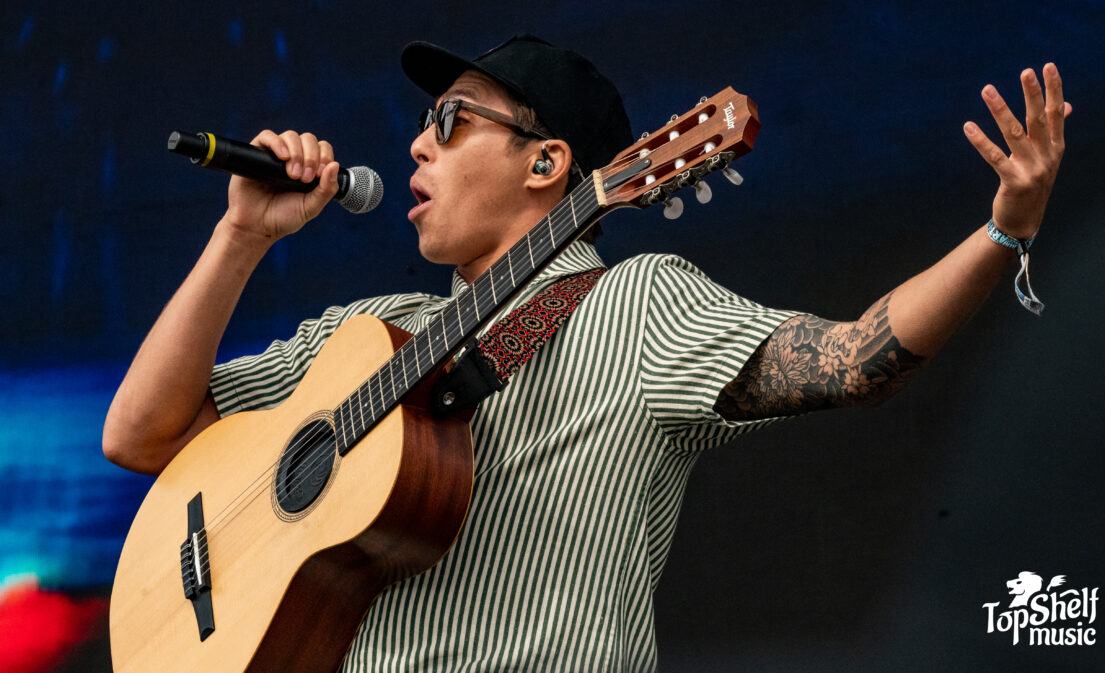 Next came Of Good Nature, a band that I had not heard of prior to that show and, not even kind of joking, I am adding them to all of my playlists right now. This epic rock/funk/soul/reggae masterclass from Charlotte, NC did such an amazing job of taking what The Wide Eyed Kids had started and expanding upon it in a way that kept the entire crowd roaring for the full 45 minute set. Skilled, technical and funky drumming, groovy bass lines that hit you in your chest, crispy horns that stand out yet blend in all at the same time, all topped off with vocals and lyrics that vibrantly came to life out of the speakers.
Of Good Nature added many new fans to their army after this show, myself included.
It also feels important to point out that OGN was selected by Sierra Nevada as a featured artist for its "Doing Big Things" promotion, partnering with Roof Above Charity to raise donations through live-stream performances to help those in need in the band's hometown of Charlotte, NC. It's always nice to see an artist use their platform to give back to underprivileged communities. 
Capping the show off was Shwayze and I mean, what else is there to say other than legend. I remember when "Buzzin'" and "Corona & Lime" first dropped and how stoked I was hearing more hip hop and SoCal beach reggae blended together like he did on that first self titled album. It, in part, shaped the summer before my senior year of high school and helped open up my world to a realm of music I would forever love and be drawn to. It's a good bet to say that I was pretty excited when I saw this show get announced. The roughly hour and a half set was seriously just as hyped at the end as it was at the beginning. This guy knows how to keep the crowd entertained, let's just say that. It's all about love at a Shwayze show. It's all about sharing those good vibes that bring everyone together under one roof to enjoy some all around fun music. Checking off all the hits from Shwayze and Let It Beat along with future hall of famers from his latest project Shway SZN like "Too Late", "Tides" and my personal favorite, "Slice of Sunshine", Shwayze added another show to his long list of performances that will only continue to grow the reputation of timeless parties.
With only a few dates left of the Spring Fling Tour, be sure to get your tickets and VIP Meet & Greet passes while you can, and don't forget to check out the latest from Shwayze, Of Good Nature and The Wide Eyed Kids on all streaming platforms. 
Shwayze Links: Website | Spotify | Instagram
Of Good Nature Links: Website | Spotify | Instagram