Considering large corporate festivals are not reggae in nature, getting approved for media credentials under the moniker 'Top Shelf Reggae' is, in itself, an accomplishment. Upon hearing the lineup for Arroyo Seco Weekend 2018, with rock legends Neil Young and Robert Plant attached, I immediately sent in an application without a shred of hope that it will be approved. The closest bands to reggae on the entire weekend trajectory were ska sensations The Specials and Latin-fusion band Los Lobos. Well, thank God for them, for a shiny 'Top Shelf Reggae' media pass came spiraling into my email inbox, announcing my official entry to one of the biggest and best festivals in southern California. Pause for celebratory victory dance. After I calmed down enough to read the fine print, I noticed I hadn't been granted the photo pass I've grown accustomed to; not to worry, TSR isn't the most popular publication on the planet and the limited photo pit space should probably be reserved for Rolling Stone Mag reps et. al. Maybe one day. In an effort to still cover the weekend without camera, I decided to vlog via iPhone with a handy, dandy new gimbal stabilizer. For the first time in 10 years, I can just enjoy a festival without having to run from stage to stage every 10 minutes and I was greatly looking forward to it. I might even be able to stand in a beer line…
From start to finish, Arroyo Seco kept it topnotch.
Thinking that I was to cover a local festival that afternoon, I did not get the morning of Saturday, June 23rd cleared with my day job, thus my weekend began at 430am opening up a coffee shop in Ocean Beach. The morning of the annual OB street fair day, where the whole town needed coffee before 10am when boozing becomes socially acceptable. In summary, work was hell. Getting to Pasadena, a suburb due east of downtown LA and buried behind hours of mind-effing traffic sprawling in all directions from San Diego, was the challenge as I clocked out flustered at 12pm. Arroyo Seco had begun before I even had a chance to change clothes. The race was on.
As I threw my phone in my bag, I noticed a text message from a man I thought I had no chance with after messing things up a year prior, a man I couldn't stop thinking about no matter what I did. The text said he pulled the trigger on last minute Arroyo Seco passes and hoped to meet me there in a few. Little did I know that Arroyo Seco Weekend was to change my life in more ways than merely music.
When I walked through the golf course gates of the Pasadena Rose Bowl, media wristband on and stabilizer up and running, I knew instantly that this festival was going to be a memorable one. Photo ops were everywhere, including the giant "Arroyo Seco Weekend" archway erected near the main gate. Three stages were laid out around the grounds: the smallest being the tented Willow Stage near the front, the middle Sycamore Stage stood next in line once you cross a couple bridges and the main Oaks Stage loomed majestic, tucked back behind a manmade pond. There were lemonade stands stationed intermittently to help beat the heat, a mesmerizing NASA tent with revolving planets to marvel at, seesaws for all ages, as well as the most diverse organic vegan options I've ever seen a vendor village offer! From start to finish, Arroyo Seco kept it topnotch. Shout out to Adam and Steve of the Glenfiddich dome for not only allowing me to sample a wonderful scotch lemonade concoction, but also introducing me to the art of inhaling scotch vapors. Looking like something out of science class, Glenfiddich was by far the best beverage experience of Arroyo Seco!
As for the day's lineup, I unfortunately had just missed Jeff Goldblum and his Mildred Snitzer Orchestra. Bummer, that was probably poppin'. I caught the tail end of Hurray for the Riff Raff, who tore up the small stage, before it was Pretenders time on The Oaks main stage – SUPER bucket list! Chrissie Hynde not only sounded like she did in her recordings decades ago, but looked like a timeless rock star as she shredded on guitar in between classic pop ballads, like "Stand By You" and "Don't Get Me Wrong". Chrissie Hynde is my spirit animal.
Around this time, I found the aforementioned man friend of mine who came as a package deal with his best friend in the entire world and, just like that, we were crewed up for the remainder of the weekend. Craft beverages with top shelf liquor were consumed, A-list performances were watched and two acquaintances dropped their pretenses enough to realize truth exists between them. The Pretenders made way for Belle and Sebastion to rock the fest before Jack White turned the energy up to 11. Jack White's loud and proud performance was infectious: an explosion of sound reverberating throughout the entire grounds generated through massively distorted guitar licks. He also played a few White Stripes songs, which was tight. The Specials kept the good times going, closing down the Sycamore Stage before the big man of the hour, Neil Young, headlined the Main Stage. At one point, Neil said into the mic that he and his band forgot to prepare a set list for the evening, so improvisation was the name of the game. Nobody, not one person in the entire event, seemed to mind. After jamming the night away, it was time to retire with a big Day Two looming in a few short hours.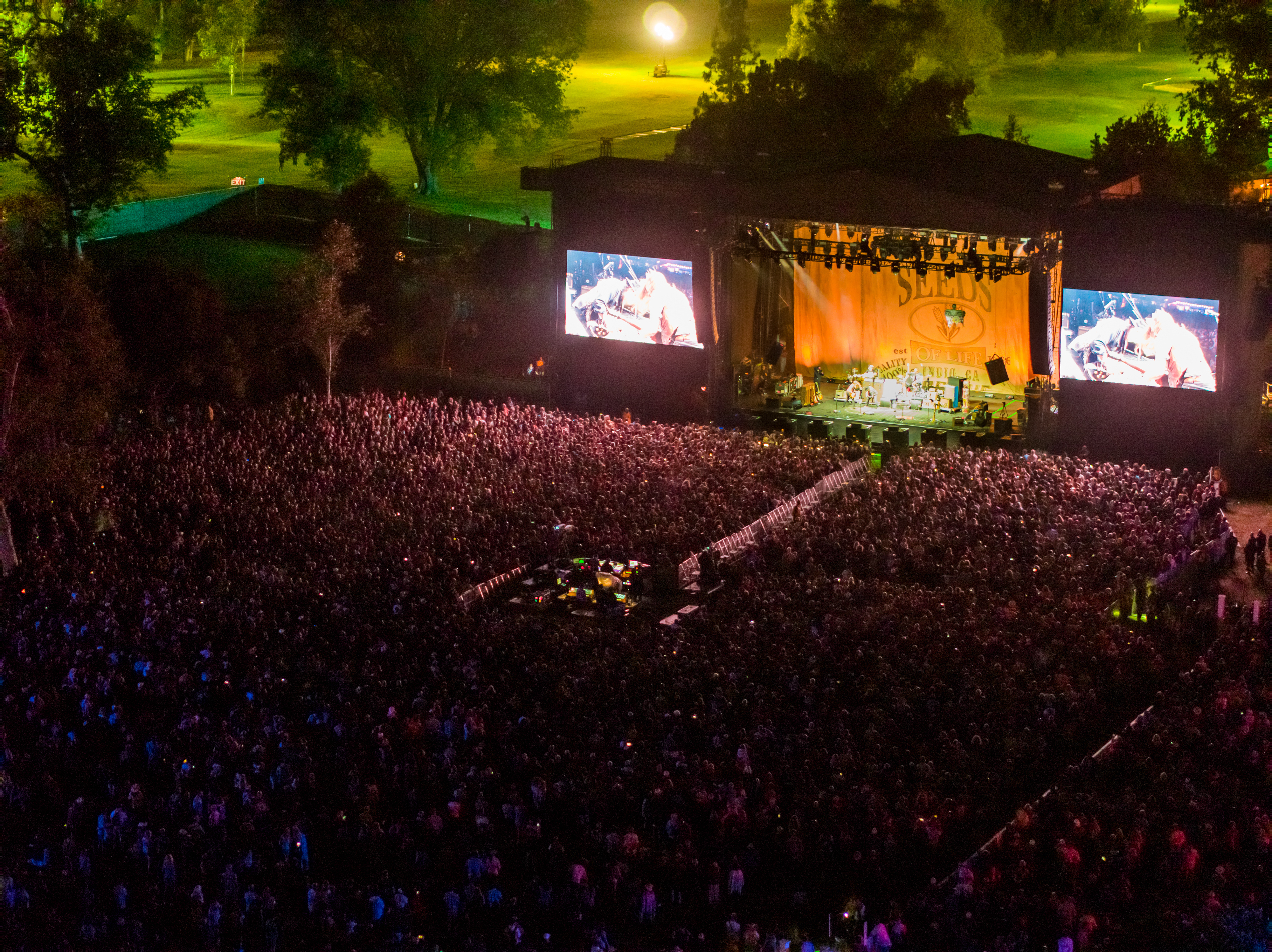 Sunday was sunny and hot like the day before, but with a STACKED lineup, which rendered the Pasadena Rose Bowl packed to capacity by noon. Allen Stone inaugurated the side Sycamore Stage followed by Prince's backing band, The Revolution – you know, the guys from Purple Rain. I missed Trampled By Turtles and Tracksuit Wedding by arriving at 130pm; I also only caught a moment of Margaret Glaspy on the Willow Stage… I was too excited to jump into the Prince dance party going down full-force on the other side of the fest. After the place partied like it was 1999, the Violent Femmes injected the day with their punky-folky je ne sais quoi flair. From V-Femmes to a femme band, The Bangles were up next on the Sycamore Stage, singing hits from the 80's and OG jams from their first album. As much as I love to walk like an Egyptian, I made my way over to Fantastic Negrito at the Willow, and boy, was that a good call. Fantastic Negrito seriously brought the business.
Before anyone knew what hit them, Arroyo Seco 2018 got EPIC.
Before anyone knew what hit them, Arroyo Seco 2018 got EPIC. Let me explain: Alanis. Morissette. I've shot Alanis from the pit once before at KAABOO Del Mar 2017 and she slayed. Nothing too noteworthy that time, besides the fact that she's Alanis Morissette. I've always been a huge Alanis fan because, let's face it, Jagged Little Pill is one of the best albums of all time. I was six years old when she dropped that bomb on the world and remember rightfully stealing it from my older stepsister once my mom said she wouldn't buy it twice. Shout out to 1995! Anyway, what was different about this particular performance was Alanis' aura at Arroyo Seco. She was glowing. She was on fire. Alanis was so animated, playing hit after hit after hit after hit, that it rubbed off on the entire crowd. She screamed, she joked, she crawled, she became the music. Jumping and shouting to "You Outta Know" and "Ironic" at the top of my lungs with newfound friends was one of the best thrills I've had to date. Alanis is everything.
Next up, Los Lobos got people dancing and singing in Spanish before Gary Clark Jr. melted minds from aboard the main stage. How Gary Clark Jr. made the sounds I heard from his guitar, I'll never know. I wasn't aware instruments could do that. After that feat, I took a much needed breather during Capital Cities, sitting next to the pond and watching people dance on the other side of the water fountain. The Rose Bowl is one beautiful golf course, let me tell you.
One of the most legendary rockers in music history was up next – Robert Plant with his Sensational Space Shifters. Let me preface this next part with how I transcend a normal Led Zeppelin fan… and I never thought I'd be able to see them. I've never seen Robert Plant in the flesh and never thought I'd hear his voice live. Again, shout out to being a late 80's baby… all the 70's rock bands were done by the time I could walk. Well, within seconds of Robert Plant taking the stage, when I heard Zeppelin guitar riffs wafting up to the stratosphere, I had a minor heart attack that I wasn't close enough. I had to be IN IT. After karate chopping my way to make Robert Plant securely in eye sight, he played some solo stuff and, believe me, I was dancing, until the first chords of "Going to California" started. I froze. Goosebumps spread the entirety of my appendages and I just stood there, transfixed. This. Was. Led. ZEP-PE-LIN. Tears involuntarily cascaded down my face as the song trangressed and I was stuck – unmoving, mouth agape, unblinking, overwhelmed with feeling. Magic. After the song ended, I wiped my face and realized that I had landed myself smack dab in the middle of a hokey do-si-do happenstance, so I naturally engaged. Swing your partner, round and round to the Robert Plant sound.
Third Eye Blind can hardly hold a candle to Led Zeppelin, but they tried their best anyway, singing about their semi-charmed life and upcoming plans for a new album. Across the way, Aaron Neville's warbling vibrato was soothing the ears of old-timers and old-school music lovers alike. Last, but not least, Kings of Leon sealed the Arroyo Seco Weekend until next year, with alt-rock hits and flashy lights. I left the Rose Bowl feeling enlightened, uplifted and renewed. I also left with a boyfriend, a true romance, because Arroyo Seco Weekend opens you up for anything. For more Arroyo Seco Weekend 2018 coverage, watch for the Top Shelf Reggae daily vlog coming for both Day One and Two.
Photography by Goldenvoice