It's a good day when you see the best coming back full circle, with music they were meant to perform. These gents from the UK have proven themselves beyond worthy in this massively wild music trip since 2006. Asking Alexandria has progressed into the ranks with their own vibe and refuse to play the same tunes. The band craves the challenge of change throughout their recording history and it's no doubt their decisions have proven them right with continuous hits slamming the billboards!
Two recent tracks include "Bad Blood" and "Psycho" both quite telling of the band's transparency in keeping it real.
The tracks can most definitely resonate with anyone right now; the insanity going on in the world can and does affect our psyche and mental health.
"'Psycho' is one of those songs that is talking about when you feel trapped inside your own head… trapped by your own vices and your own downfalls," explains lead guitarist Ben Bruce. "Whether it's being stuck in a relationship that doesn't work for you or feeling like you can't stop drinking or doing drugs, or maybe you're stuck in a job that you hate and you're just battling yourself in your own head, wondering 'why am I still here? Why do I keep doing these things?'. Ultimately, at the end of the day, we all feel a little bit crazy… a little bit like a 'Psycho'. It's just a fun song that we can all relate to and, stylistically, we thought to ourselves 'how do we make a song that sounds like it could live on the Like a House On Fire album, but also like it could live on the From Death to Destiny album?' So musically, from a writing standpoint, it was a really enjoyable experience to meld those two eras of Asking Alexandria together and see what that might look like."
My personal favorite right now is "Bad Blood", a song that's intense yet quite beautiful with vocality ranges that take us on a journey of betrayal and how one tries to let go.
This is the music I live for!
The band — Ben Bruce (lead guitar), Danny Worsnop (vocals), Cameron Liddell (rhythm guitar), Sam Bettley (bass), and James Cassells (drums) — will release their anticipated eighth full-length studio album Where Do We Go From Here? this in a few short weeks via Better Noise Music. The album's debut track "Dark Void" was released in May and saw the band return to their metalcore beginnings, a track that has already amassed over five million streams and one million video views to date! The Psycho Thunder co-headlining tour with The Hu is also kicking off this fall, including labelmates Bad Wolves and opening act Zero 9:36.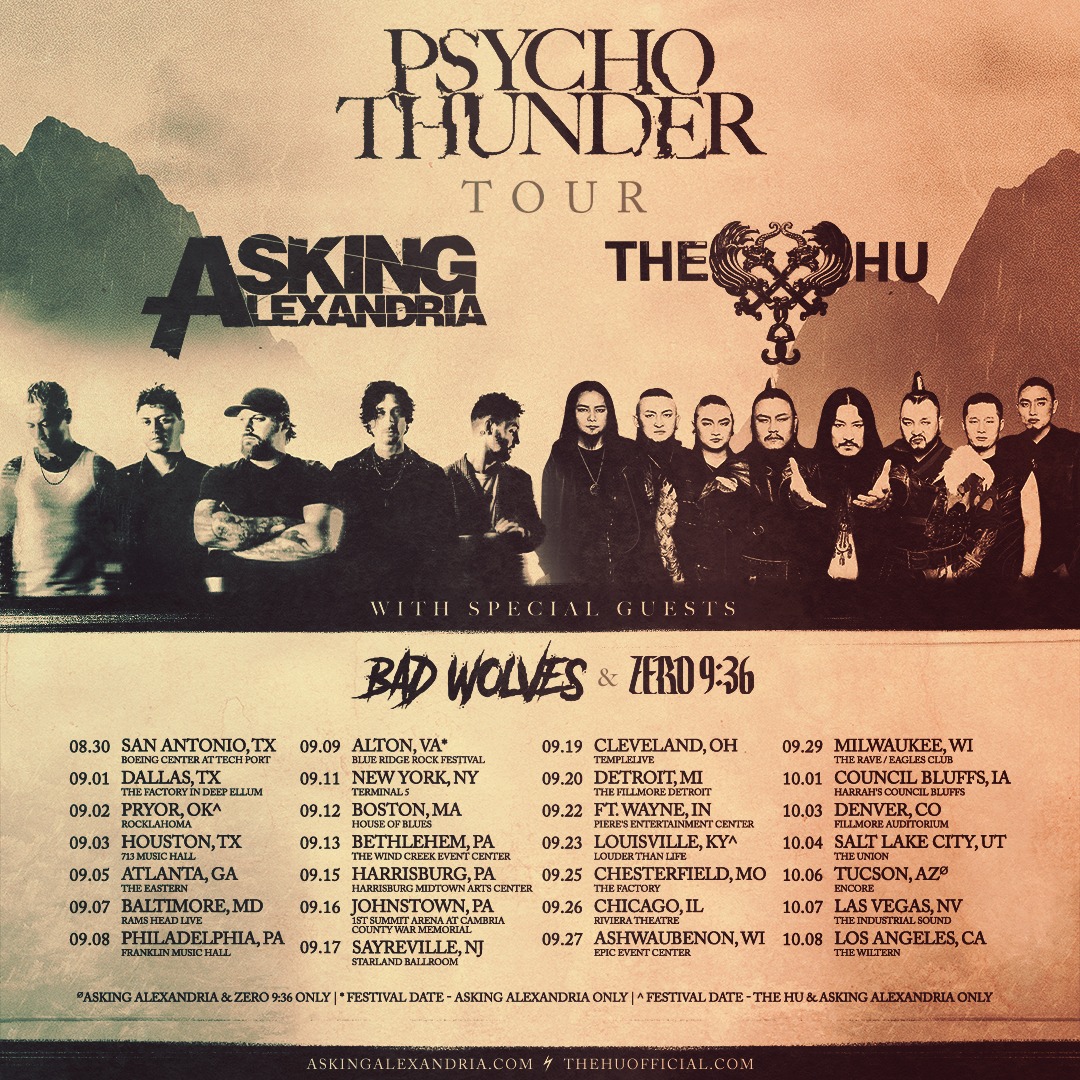 Asking Alexandria – "Psycho" official video
Asking Alexandria – "Bad Blood" official lyric video