A month to the day after this Boston-based sextet dropped their third studio album titled Castles, I hit The Elovaters' Nick Asta and Matty Link's recents and chatted them up, regarding the many aspects that make Castles unique and, well, for lack of a better phrase, utterly addicting. From their multifaceted collaboration styles to their chill group dynamic (as well as the unusual, rapid-fire recording method, courtesy of producer Johnny Cosmic and fellow Massachusetts native Stick Figure's Great Stone Studios), the amount of creativity and multi-member efforts infused into this album released via Belly Full Records (their own label) nothing short of awe-inspiring. 
The first thing you'll notice with this LP are the vast differences in sound from one track to the next.
Each song manages to create a micro-genre all its own; whether it's the sunny, sexy, vacation-ready "Margaritas" with St. Maarten-bred Orange Grove or the nostalgic, über chill, steel guitar-tinged "DeLorean", featuring Brother Ali and G. Love & Special Sauce. In Castles, individualism is the name of the game and The Elovater's are on a winning streak, baby. How do they carefully toe the line that divides comprehensive mass appeal and sheer polarity? One word — universality, both sonically and lyrically.
Dummer Nick Asta explains: "When you write something personal… it's really relative to what others are going through. It's fun to write songs from that perspective, so everyone can have their own [interpretation of] what it means to them. All of us have gone through those experiences… and even though it's a specific situation, we can all relate to how it made us feel."
Bassist Matty Link continues, "There's a beautiful story being told. And, all these songs hit every genre of the market in the reggae scene… Whatever genre of music you like, you'll like us, too. We can do anything together and this album shines new light on our range — what we can do and what we will do." Is that a threat?! 
Aside from the fact that all 16 songs are a strict no-skip bunch (this isn't up for debate, sorry), they all carry emotions we've felt deep in our soul at one time or another and a rhythm we want to listen to over and over again. Case in point: the first time I played this album, "Shots Fired" was on repeat for four days. I couldn't get enough of the meandering, hip-swaying melody that gently wraps itself around lyrics that make you go, "ouch, I've totally been there". In one of the first lines of the song, vocalist/lead guitarist Jackson Wetherbee declares, "Shots fired // Calling me a liar // I'll be gone before the morning sun" and there isn't a single one of us that can't relate on some level. However, Johnny Alves' ambient guitar riffs, coupled with Jackson's creamy tenor and bubbly chord progressions c/o keyboardist Greg Nectow, allow you to forget any lingering bad vibes or memories and just get down with your bad self. Yes, it's that good.
The yumminess of fluid songwriting and seamless song development in "Shot's Fired" are common themes in every song and coexist peacefully within each of their stark sonic differences.
As I listened to the album in its entirety over the course of a few weeks, the same questions repeatedly came to mind: "How do they do it? How do they create these bangers and what does collaboration look like?" And that, my friends, is where the plot thickens, like the marine layer in San Diego. By some magnificently otherworldly blessing from the Gods of Music (they're real, don't @ me), most of the album was brought to life from bare bones acoustics to a fully conceptualized and recorded album in just 21 short days at Stick Figure's legendary Great Stone Studios in Oakland, with wizard producer Johnny Cosmic at the helm. I say 'most' because two of the tracks were born on a tour bus, pre-COVID, according to Matty:
"… Funny bit of info that most people don't know is that 'Gardenia' and 'Down The Road' were first recorded on the tour bus, while we were actually on the road. Over the course of quarantine, Jackson adjusted things and Nick redid the drums, but, yeah, we came up with those two songs while we were on tour with Pepper. We had a little multitrack recorder we used."
Those two songs are my second and third favorites off the album, respectively, after "Shots Fired" and I don't know if that's a coincidence. The Stick Figure-featured "Gardenia" is sprinkled with futuristic dub, dreamy drum fills and a heavy-hitting bass line, which reeks of pure sex and Scott's line, "I don't care if I don't get no sleep tonight // I just want to get high with you" is nothing short of sensual. Word on the street is that some of the spiciness of the original tour bus version was cut, which leads me to endlessly wonder what those lyrics sound like… *breathes heavily*.
When you have the entirety of quarantine to contemplate and refine a song, I suppose things can and will change.
During our interview, I asked what collaboration looked like during quarantine and if they saw each other much, because, surely, an album of this magnitude had to have been in the works for many months, if not years. To my surprise, I received an emphatic "no":
Matty: "We didn't see each other at all. Then, maybe a week before the studio time, we started putting our brains together. We didn't really have anything written when we went into the studio. We got there and literally pieced the whole album together."
Nick: "… Jackson had some songs brought to the table, but we hadn't even heard them. There are songs that were written completely from scratch in that studio: 'Margaritas', 'Shots Fired', 'Moon', 'Be Alright'; half the album was written from stardust. It just came from the ether."
Matty: "Having a specific amount of time in the studio and just trying to make a song work has its benefits. We had a really, really great producer, Johnny Cosmic, who appreciated things from scratch; he actually gave us a lot of inspiration and courage to not throw some of these songs away, because we'd start out and go, 'Oh no, these songs are kinda dry, this is weird!' But, Johnny encouraged us to just be patient and do our parts and trust that it would come together."
Nick continues, "Having Cosmic was like having a seventh band member."
And, speaking of Johnny Cosmic, I asked if he had any influence on the "Gardenia" collaboration with Stick Figure, since the song was pre-recorded over a year ago. Nick broke it down for me: "With 'Gardenia', the boys came up with the idea on the tour bus. Jackson brought it home during quarantine and what you hear now on the album, that beat Jackson made at his home studio. Cosmic heard that [beat] and basically said, 'This is the one Scott [Woodruff] would want to do'. Then, Jackson got together and just hashed it out with him and TJ O'Neill."
And, we're so glad they did! Stick Figure's dubby interludes pair perfectly with the risqué, spicy and too-hot-to-handle nature of "Gardenia" and leaves you with all kinds of NSFW thoughts ripe for fulfillment. Enveloping that common theme of universality present on the entire album, Jackson sings, "Smell it on the pillow when she leaves, yeah // When I think about it, [I] get that feeling", evoking delicious, intimate memories of those clandestine overnight rendezvous, when you can still smell your lover on your sheets the next morning.  
And, once you're done with 'Castles', you'll feel it in your soul for the next week.
The emotion this album elicits is not something so easily forgotten; much like a passionate kiss, a great concert, a delicious meal or an ethereal sunset, Castles will leave you waiting, wishing and needing more. Stream the album now on all digital outlets.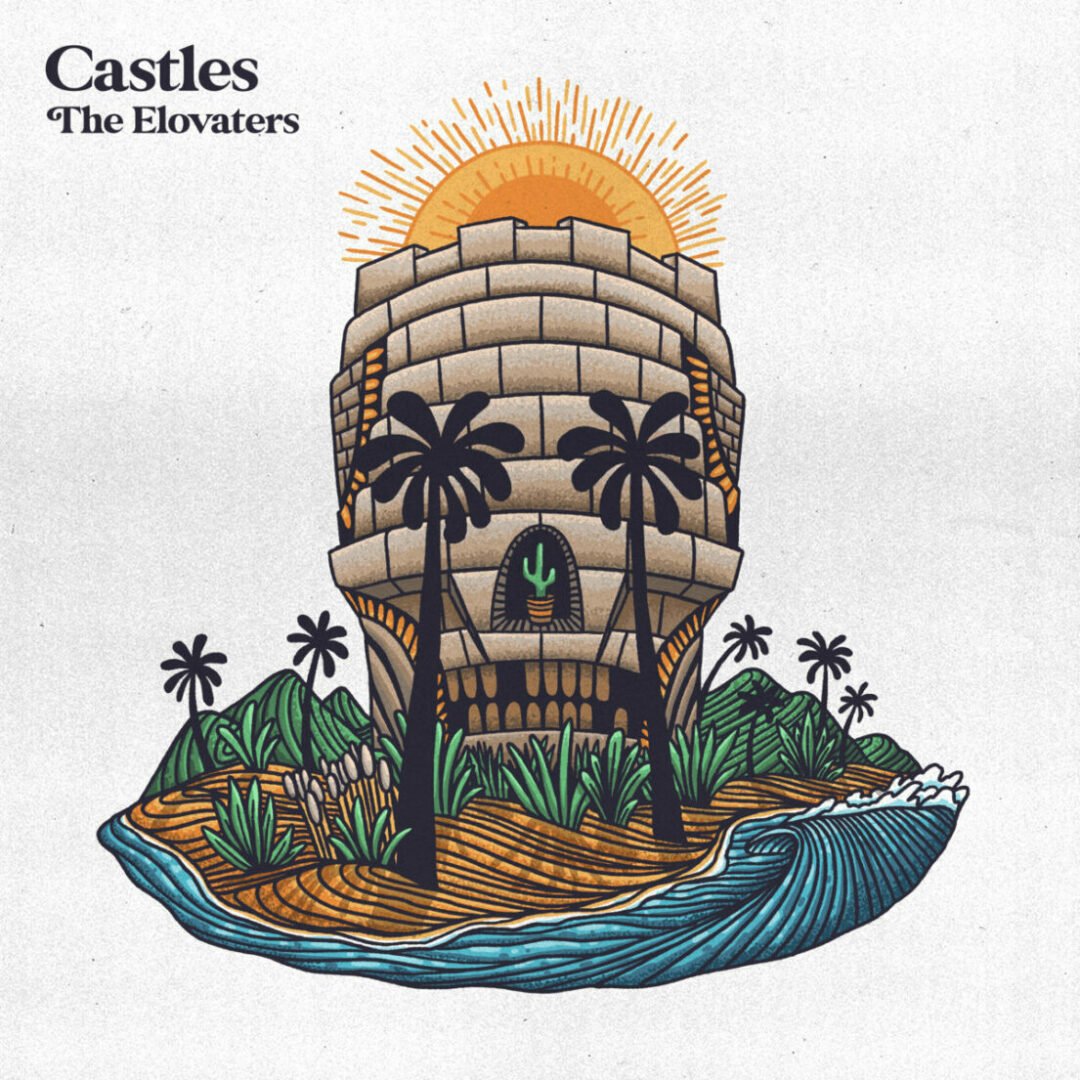 Purchase or stream 'Castles' album:
Track listing:
Be Alright
Shots Fired
Bright Side, feat. Luke Mitrani
Margaritas, feat. Orange Grove
The Squeeze, feat. G. Love & Special Sauce
DeLorean, feat. Brother Ali, G Love & Special Sauce
Criminal
Moon
Lonely Mountain
My Friend, feat. The Movement & Keznamdi
Down The Road
Gardenia, feat. Stick Figure
Return
Upside Down
How High
Cool River