Musical genres are a thing of the past. If you don't believe me, Triple Thread's first full-length album, Feels Like Home is all the proof you'll need. The Orange County-based five-piece band successfully combined the musical stylings of popular genres, including reggae, rock, ska, pop and punk. The results of such unique combinations means there's something for every kind of music-lover to enjoy.
Feels Like Home takes the listener through the highs and lows of life, including falling in love, living with regrets, seeing new perspectives, letting go, returning home and even experiencing a notorious southern California sunburn.
Listeners can take comfort in relatable lyrics that offer nice reminders that we are all in this together.
"Before the pandemic, we would play local bars, performing a handful of original songs, but mostly covers of crowd favorites, like Sublime, Slightly Stoopid, Pepper and Iration among others," comments lead guitarist and singer-songwriter, Andrew (Drew) McCormick. "When everything shut down, we really came together as a band. We took that time to tighten our sound, explore avenues outside of our comfort zone and network with other artists."
"Through the creation of Feels Like Home, we learned to work more collaboratively," continues bassist Noah Caron. "Bringing an idea to life can be challenging, with the input of five people, but it's always exciting when Drew and Dan [Westerlund] bring us a song. We all get to put our own flavor on it."
The twelfth and final track on the album, "The Unknown", is a great example of that. "Dan brought us this song with really just the foundation built. Drew jumped in with some solid shreds, Justin and I developed a rhythm together, and Wolfy topped us off on keys," Noah elaborated.
As the newest member of the band, keyboardist Wolfy Keeney has a little different of a perspective.
"I've been creating music and playing in bands all my life. I caught a Triple Thread performance one random night and knew they had something I wanted to be a part of," explained Wolfy. "At this point, most of the album was done already, but the boys still encouraged me to take things further and get creative."
Feels Like Home not only reflects the collaborative creative genius of its contributors, it also bridges the gaps across musical genres. "We all come from different parts of the country; we all grew up listening to very different music," adds drummer Justin Schubel. "Drew grew up in rural Kansas, where his influences centered around country music and classic rock. Any twang you hear on the album is Drew channeling his inner mid-westerner. I grew up around Detroit, during the reign of Insane Clown Posse. While I was never an actual juggalo, I tend to want to go hard."
Turns out, Westerlund (guitarist and singer-songwriter) joined the band with a handful of unfinished songs in his back pocket. "Honestly, I never thought I'd see crowds of people singing my songs back to me. That's been one of the coolest things to have come from releasing the album so far."
The fact that five very different people, with vastly differing experiences, ended up in the same tiny part of the world at the same time in their lives that led to the creation of a 12-song album that brings listeners comfort is profound. "It really feels like we were able to bring a little bit of home to people," the members of Triple Thread said in agreement.
Triple Thread would also like to further acknowledge and thank Ed Corbett, Luis Alonso and Max Maynard (of The Brass Boys) for laying down the amazing horns you hear on some tracks, Big G Productions for mixing and mastering the album so beautifully and artist D-Lazz of DL Art Productions for the killer album cover. Feels Like Home is available on all streaming platforms. Keep an eye out for an upcoming tour announcement!
Purchase or stream 'Feels Like Home' album:
Track listing:
Home
Dark Sunshine
Sweet Girl
Kisses Goodbye
In Flames
Conscience Falling
My Song
Tomorrow's Sunburn
Even In The Rain
Get Your Shit And Leave
Four Steps To You
The Unknown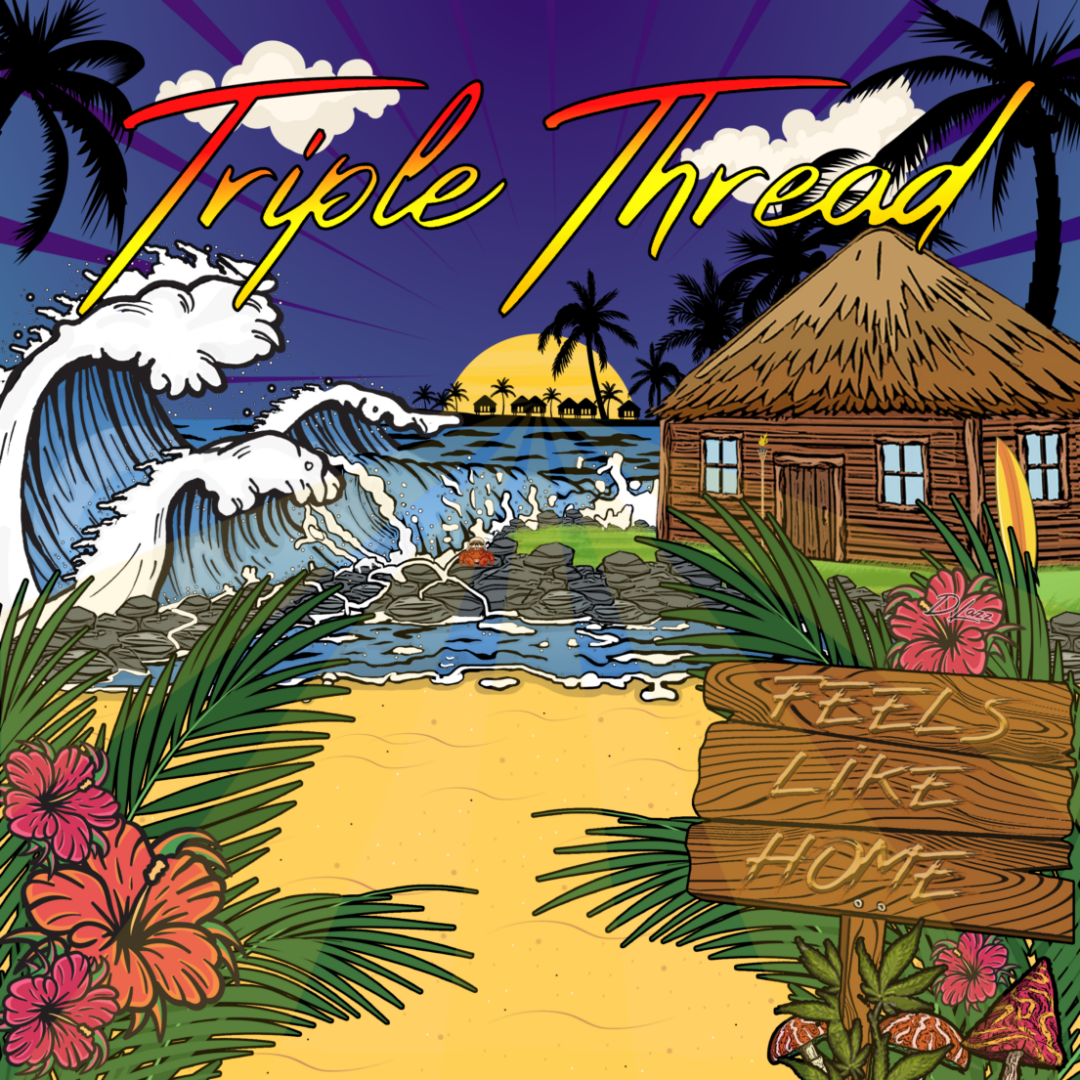 Cover photo by Jose Corona