Elder Island hypnotizes at San Diego's CRSSD Festival 2022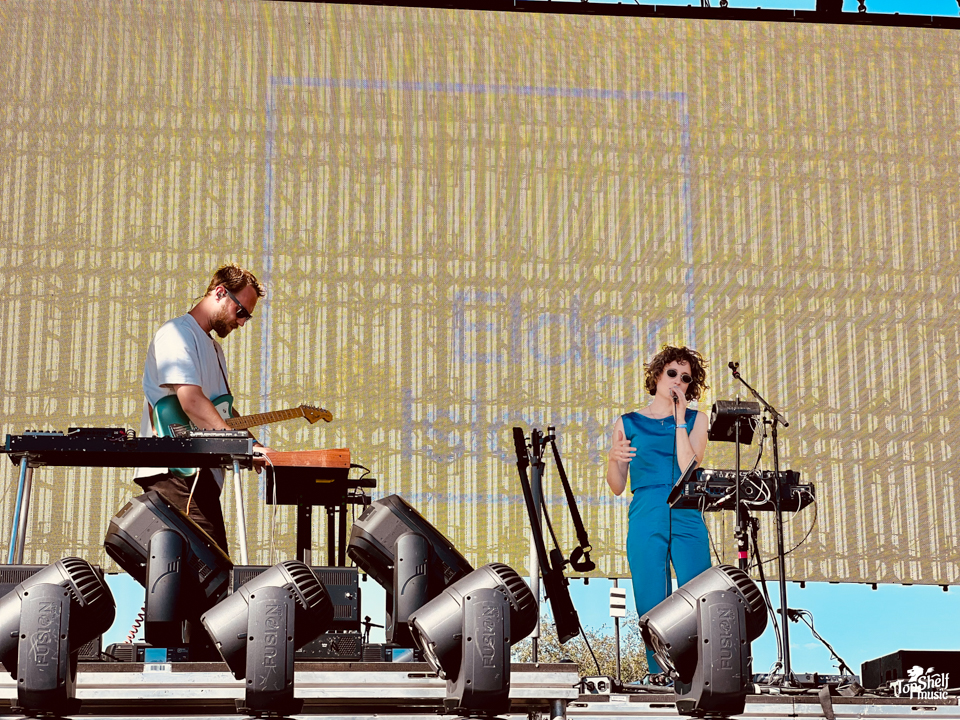 As Elder Island prepares for the drop of their new Additions Attachments EP later this month, the Bristol UK-based electronic-pop trio spent the summer making their mark on many festivals and venues around the world — from the Pineapple Ball in the Dominican Republic, the MS DOCKVILLE in Germany and even here in sunny San Diego at our own magical indie techno festival, CRSSD. Since its inception in 2015, CRSSD has been setting a standard in hosting a beautiful, well-organized, waterfront festival twice a year, boasting expertly curated food, great music and excellent drinks to match.
As I waited for Elder Island to take the main Waterfront Stage on Day Two, the crowd quickly gathered in excitement.
I talked to a few fans who told me that they came just for this performance.
These conversations, along with the atmospheric vibe, had me getting really excited.
Then, David Harvard (guitarist and synths), Luke Thornton (bassist and beat maestro) and finally, Katy Sargent (vocals and cellist) took the stage and stormed into their intro song with such furious excitement, they did not seem to notice the sound malfunction — as no sound was coming from the mics! The audience danced anyway, because, WOW, these guys were just totally insane! I was entranced with David's ability to switch between instruments so smoothly.
The sounds they were creating felt so inviting.
Once the vocal sound was restored, the show went even crazier than before. When I heard Katy smoothly glide her vocals over hypnotic electro-pop, I immediately felt like their number one fan. The trio flowed with such an unmatched chemistry onstage that exuded through their music and their movements, as well. The crowd cheered with excitement every time Katy came out from behind her small board to sneak in a dance break or just to sing to us more intimately. We were so lucky to hear new upcoming music from Elder Island at CRSSD! I am so glad that the wait for the complete EP drop is not too far away, plus Elder Island just released their first single "Motive" off Additions Attachments! The powerful electric ballad has a remarkable way of contrasting strong, thought-provoking lyrics with a rhythmic, catchy sound.
The band explained that "Motive" is a song that has gone through many transformations over time.
Originating in 2020, during the recording of their previous album, Swimming Static (2021), the band shelved it when the sound just wasn't quite right. Soon, new upbeat drums brought the song back to life and it was ready for the world. "Motive" is available on all streaming platforms and music sources! And, just in time for your Halloween festivities — the entire EP Additions Attachments will be released on October 28th, 2022!
Links: Facebook | Twitter | Instagram | Website
Photography by Franny Kovacs