Kyle Smith interviews after his Tower 12 performance
Kyle Smith
Kyle Smith
Kyle Smith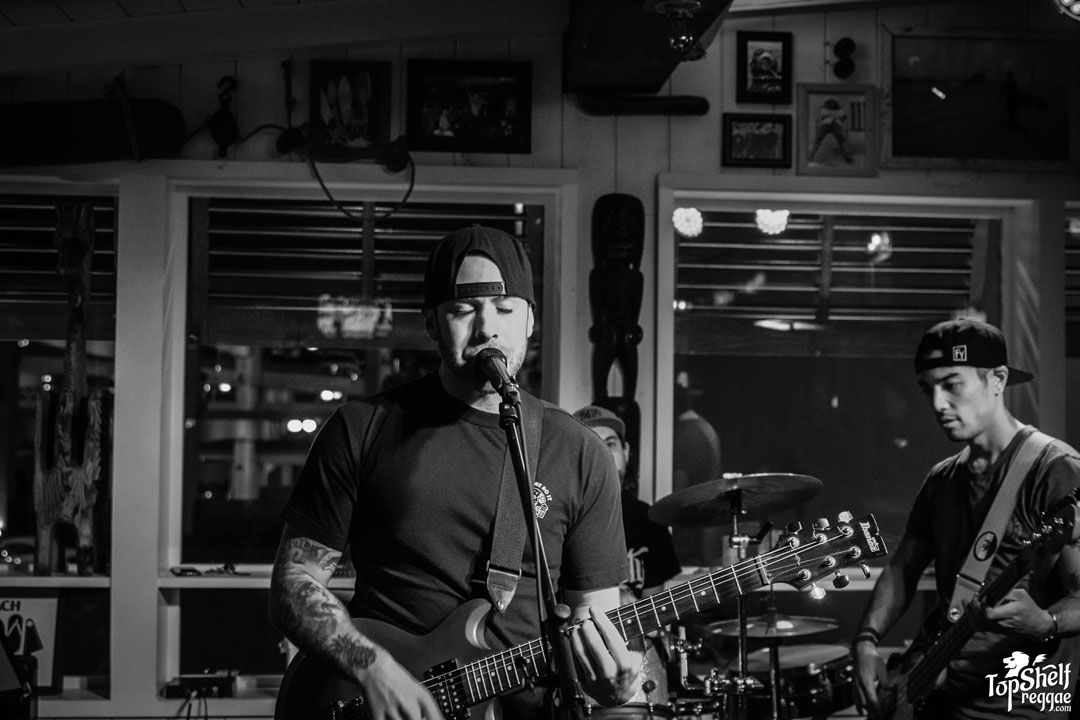 Kyle Smith
Kyle Smith w/ Dan Kelly
Kyle Smith w/ Travi Bongo
Kyle Smith
Kyle Smith w/ Travi Bongo
Kyle Smith
After opening for the likes of The Aggrolites, J Boog, Pato Banton and Tommorows Bad Seeds, reggae-rock singer and songwriter Kyle Smith and his band made a stop at Tower 12 in Hermosa Beach, CA on November 7, 2018. While playing original songs "Jaded", "True Love" and the just released single "Leave It", the band also covered some Rebelution, Sublime and Offspring tracks in between insanes mash-up of Pepper and Slightly Stoopid.
TSR discussed with Kyle what inspires him to write with such raw truth…
The crowd was graced with surprise guests Dan Kelly and Travi Bongo of Fortunate Youth and Moi of Tomorrows Bad Seeds who showed up to support Kyle and the band. They also sat in for a few songs and rocked the crowd.
TSR discussed with Kyle what inspires him to write with such raw truth after the show, along with his musical influences. With new music coming out and his name attached to big lineups in 2019, like Long Beach's One Love Cali Reggae Fest, Kyle Smith is surely on the up and up. There are also more Kyle Smith shows before the year is up! Be sure to catch the band's pre-Thanksgiving hometown show in Ventura on Nov. 21st.
TSR: What got you to start writing songs?
KS: You know what? That's a pretty damn good question! I think for ANY musician, it's one of those things that you instinctively believe you should do. We all bring our own flavor, everyone is one-of-a-kind and we all have a story to tell. You never know who it may help or what kind of footprint you might leave.
When did you first write a song?
I started writing a LITTLE bit when I was 16… mainly just simple acoustic jams about weed and girls! [Laugh]
Who are your biggest musical influences?
It's hard to just pick a few, because I'm in love with so many different genres, but I'd say my stack of CDs at home looks like Slightly Stoopid, Pennywise, Atmosphere, Fortunate Youth, Eazy-E, Hatebreed, Sublime (of course), Long Beach Dub All Stars, Nirvana, Blood for Blood, Cypress Hill, Mike Pinto, Terror, Toots and the Maytals, Immortal Technique, Rancid… I could go on and on. I'm just as much as a fan of punk rock, hardcore and REAL hip hop, as I am of 'Cali Reggae' and the rootsy shIt!
What inspires you to write?
Most of my songs start with thoughts. I hear a chord progression, a phrase and beat, or anything that sounds unique in my head. 90% of the time, I'll hum a riff or a bass line into my phone to save it. Then, I'll go to a nature spot where I can actually hear my thoughts and I write. It's easier to write about experiences than making two words rhyme.
If you weren't a musician, what would you be doing right now?
If I didn't play music, I'd probably try to be some sort of archaeologist or marine biologist. Nature is the only thing besides music that really makes me forget about the rat race.
What do you feel is the best song you've released and why?
"Jaded" is my favorite song from the EP! I wrote it about young adults with no guidance that are caught up in addiction and violence and always lookin' up to the big homies instead of role models or parents. Living in Long Beach as a teen, experiencing addiction and all the dirty shit that comes with it really inspired that song. Plus, it's one that everyone always sings along with on the intro!
Photography by Jenni Lynne