On this episode we chat with Sicard Hollow, a four-piece progressive bluegrass band with a passion for pushing the boundaries of the genre. 
Formed via mutual connections in the Nashville music scene, these psychedelic punk-grass rockers found themselves tired of existing institutions telling them who to be and what to sound like, and before they met in 2018 none of the members even considered playing bluegrass. Matt Rennick (violinist) was working on electronic music while Will Herrin (mandolin/vocals) was playing guitar in rock bands. Meanwhile singer/guitarist Alex King had spent years as an artist without an art-form, searching for a home by pouring his sweat and heart into whatever project he was a part of. As they were individually navigating a fickle industry they collectively stumbled across something that felt genuine, bluegrass. Heavily influenced by the Grateful Dead and New Grass Revival, these young pickers bring fresh vitality to a timeless style and approach it with a combination of fearless improvisation and instrumental prowess.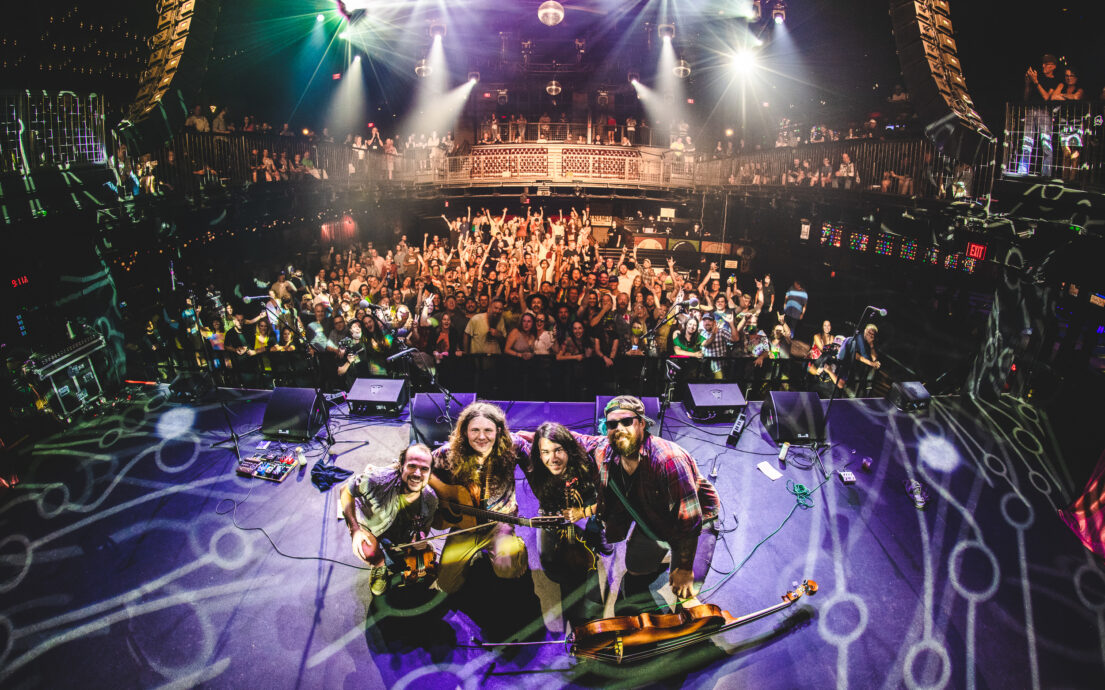 Their debut album, Secret of the Breeze, was produced by Dan Davis at Zac Brown and Oliver Wood's Southern Ground Nashville studio. The goal was to capture the spontaneity, passion, and energy of live shows, and the result was a perfect encapsulation of the band's genre-kicking tenacity. As fate would have it however, the band's emergence coincided with the shutdown of live music due to pandemic fears, and they were forced to cancel their entire release tour supporting their debut studio record. Aside from a live performance at the Brooklyn Bowl in Nashville, the band turned inward to reflect on their identity and work on new material with a desire to create songs that could add their generation's voice to a classic genre of music. With the help of producer John Mailander (Billy Strings, Bruce Hornsby) and recording/mixing engineer Dan Davis, the band further honed their identity. The result was an explosive combination of pop-punk melodies, psychedelic instrumental breaks, and existential song-writing all packaged as a bluegrass quartet dressed in tattoos and tie-dyes. 
Since their inception, Sicard Hollow has been on a journey of self discovery, challenging themselves to put a unique stamp on bluegrass music while touring extensively and growing their sound with every performance. The new album, Brightest of Days, is a perfect example of how the group can pay homage to their bluegrass roots, while blowing the door open on the expectations of the traditional style. A positive skepticism toward the mainstream permeates the entire record, with songs like "Forecast of Life" and "Where I'm At" impressing a new-American-Zen that dances through the chaos.
Sicard Hollow: Website | Spotify | Apple Music | Instagram | Facebook | YouTube
About the podcasters
Skunk Manhattan:
Skunk is a musician, primarily known as the frontman and guitarist for eclectic heavy-rock band A Good Rogering. Since moving to Austin in 2004, he has recorded and performed with a wide variety of bands and solo artists over a career spanning more than 20 years and has shared the stage with notable acts, such as Skid Row, Marty Friedman, Uli Jon Roth, George Lynch and Metal Church among others. Skunk not only works as a performing musician and recording artist, but also as a producer and music teacher. With two decades of insight into what it means to be a professional musician and a passion for not only music, but comedy and general chatter, Skunk was quick to jump at the opportunity to co-host a podcast with longtime friend, Victor Ramos.
Victor Ramos:
A Texas native, Victor's early musical influences are a mixture of classic rock albums played by his Vietnam vet father and a whole lot of 'the Fab Four' via his Beatles-loving mother. Sprinkle in some classic country and Motown, and you have a man that would say "¿que?" when other Tejanos would ask what his favorite cumbia was. After a stint in the Marines, Victor moved to Austin in 2000 and began working in the tech industry. He met Skunk in a Spanish class in 2005 and the two discovered a shared passion for not only beer, but music. After years of collectively attending concerts and talking music, the idea to start a podcast centering around such topics seemed like a logical endeavor.