There are some things in life that go better with other things: peanut butter with jelly, iPhones with power chords, yin with yang. Along the lines of essential pairings comes beer with punk rock – you simply can't separate the two. World-renowned FM radio station 91x in San Diego knows this all too well and has decided to celebrate the city's exquisite craft beer selection paired to the most ska-tastic bands in the biz by hosting this year's Ye Scallywag Festival. Gracing the coastal stage at The Embarcadero's Waterfront Park this upcoming Saturday, October 20th will be none other than Rancid, The Mighty Mighty Bosstones, Hepcat, Less Than Jake, The Interrupters and Beach Goons. Making sure to wear your skanking shoes is an understatement.
Scallywag Fest ports at several cities every fall…
Scallywag encourages matching your favorite beer to the music with over 150 brews to choose from around the grounds. Want to try them all? Not a problem. After the gates open, attendees will receive unlimited free beer tastings until 4pm – that's three hours of free samples! Not enough for you? Get an extra hour on the tasting clock by upgrading to VIP (on top of all the usual VIP amenities and extras). Beer tastings will continue throughout the event in the VIP lounge if you're not particularly an early bird. Regardless of your consumption experience, just make sure to snag a complimentary 'SCALLYWAG' tasting glass while you sip.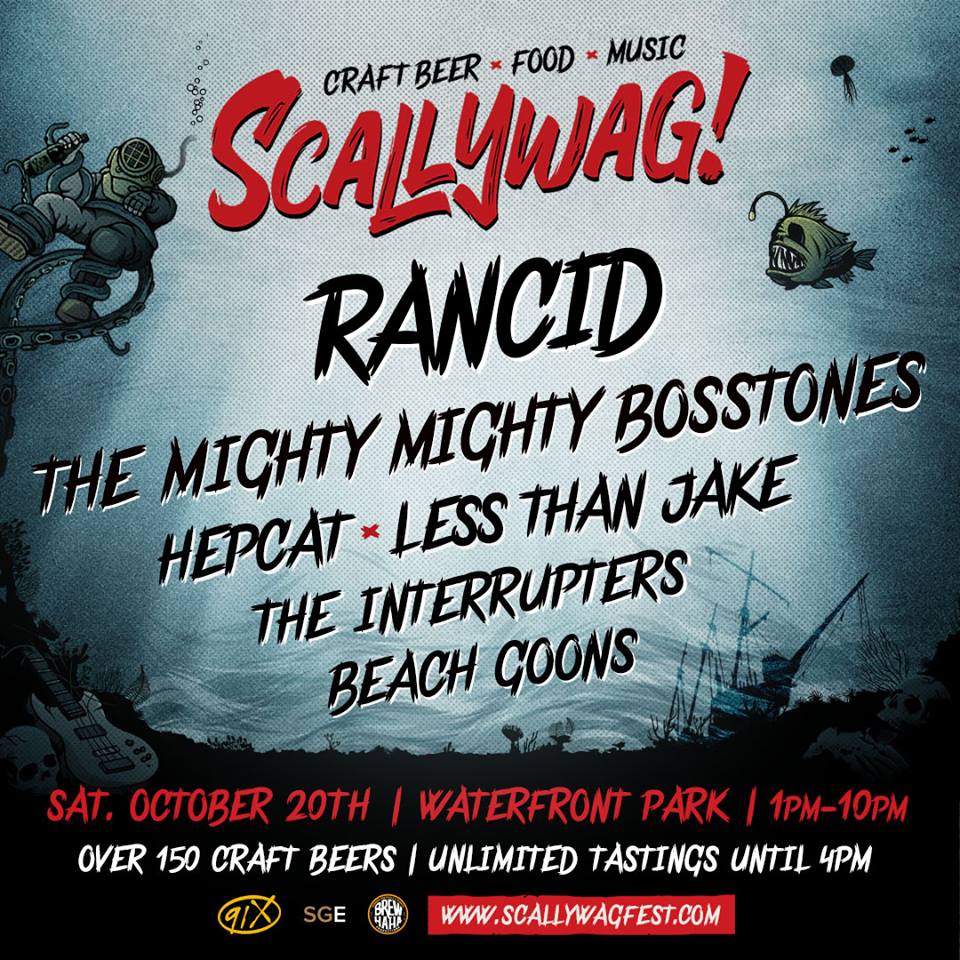 Both general admission and VIP offerings are still available for purchase ahead of time, for this event will sell out. And, for those not in San Diego, never fear! Scallywag Fest ports at several cities every fall, starting with Denver and Austin before hitting Auburn, Boise and San Diego. It may be too late to attend Denver and Austin, but Scallywag Auburn and Boise are going down this weekend for those who can make it! Idaho adds Bad Religion, Pennywise, Reel Big Fish and Mad Caddies into the mix, too… if that's not an epic event, we don't know what is. For more information or to get your tickets now, visit www.scallywagfest.com.