In less than 20 days, ticket holders will find themselves with their feet buried in the virgin sands of one of the last unspoiled beaches on the Pacific Coast. Two hours south of Puerto Vallarta lays Mayto Beach: a quiet community focused on the conservation of sea turtles and now also home to an all-inclusive music festival like none other. Transportation to and from the airport to Mayto Beach is included.
The San Diego-based independent management firm, Pacific Music Company, is collaborating with High Point Music for the first-ever Ayotl Music Festival.
The musical lineup alone is enough to make you run full-speed for your wallet. However, it doesn't stop there.
From December 1st through 4th, festival-goers will be treated to once-in-a-lifetime experiences!
By attending the event, guests will help support the community in securing educational opportunities for local school children through the Cabo Corrientes School Foundation AND the year-round Sea Turtle Conservation Project. Giving back to a community in need while being pampered on a luxurious beach is a unique component of Ayotl.
Festivities begin on the first day, with a tequila-heavy cocktail hour — the perfect start to a Mexico vacation! Dinner and sunset with turtles will follow with an hour-long set from the reggae queen, HIRIE. DJ Lexy Love and DJ Cootdog will be spinning vibe-setting tunes throughout the entire weekend.
And, this is just the beginning!
Friday and Saturday attendees are invited to an intimate sunrise yoga/sound healing session followed by breakfast and community outings. Attendees are then further invited to experience optional activities around town, including, but not limited to: fishing, renting jet skis, and body massages!
Friday entails a tour of the local school with the foundation your proceeds are benefiting with a DJ-covered lunch buffet beginning around 2pm. Guests will soon find themselves kicking up sand in rhythm to the respective musical stylings of SM Familia, Mystic Roots, Sammy Brune, Shanin Blake, and Ted Bowne of Passafire. Dancing will pause momentarily for dinner and sunset with turtles. Deejays will be back at the table for the final event of the evening.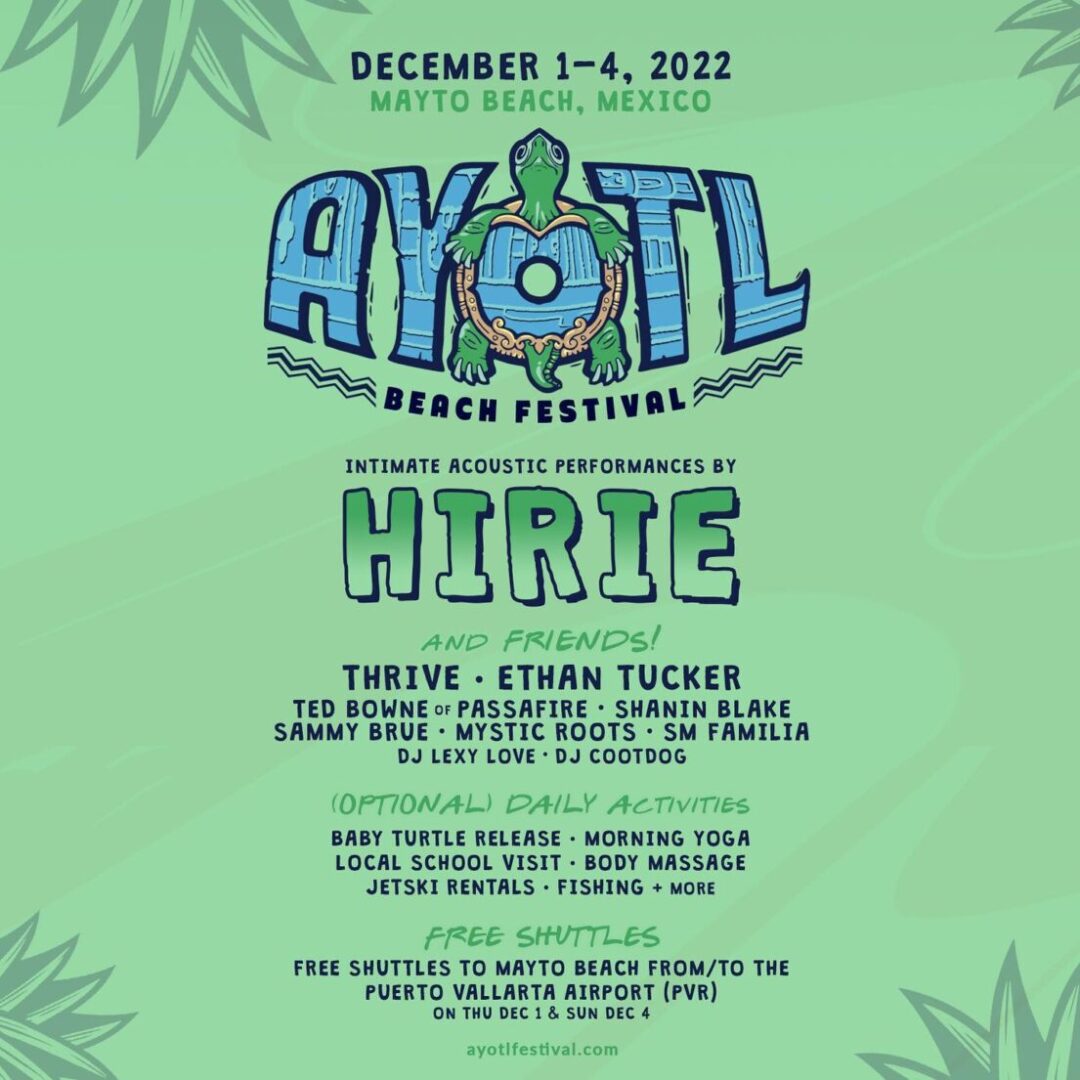 Saturday entails a trip around the charming town of Tehuamixtle and a relaxing poolside hang. Mood-setting tunes will be provided by Ethan Tucker, Thrive, and HIRIE. More sunset turtles and a DJ set to cap off the night. Sunday, the final day, will consist of coffee, brunch, pool or beach lounging, and traveling back to Puerto Vallarta to begin the journey home.
There are school children and sea turtles who would love it if you danced all night long to reggae music on the beaches of Mexico! This is seriously a once-in-a-lifetime opportunity! Don't wait on it, as there are limited tickets still available.