The West Coast boasts a distinctive musical tapestry across various genres, and California's reggae scene stands out with a wealth of top-notch bands continuously featured in prominent reggae festivals. Today, let me introduce you to LakeDub, a group of Long Beach natives whose self-titled debut album has recently hit the streaming platforms, brimming with positive messages enveloped in their unique blend of reggae, infused with hints of hip-hop, ska, and metal influences.
Having had the privilege of witnessing LakeDub's live performance earlier this year in Long Beach at DiPiazza's during a Cali Vibes after-party, situated just off the Pacific Coast Highway, I was immediately struck by the infectious vibe and energy they radiate. Their passion-filled hunger mirrors that of many bands that have achieved significant success. The album is a significant milestone for these artists, evident in the ten tracks that span uplifting self-care anthems to obligatory odes to herbal inspiration. LakeDub's debut has everything you need to acquaint yourself with the personalities behind the music, inviting you to not only listen but also perhaps groove along a bit!
The entire LP is a sonic journey, with tracks like "Merry Go Round" standing out as a personal favorite. This infectious melody delves into the struggles of navigating life while maintaining a resilient spirit, encouraging listeners to make the most of their journey. "Reggae Party" lives up to its name, offering a fun anthem-style tune that, with the assistance of Long Beach raised artist, Kyle Smith, effortlessly dispels any gloomy day, setting the vibes right without any hassle or conflict. And when "Top Shelf" starts playing, it's time to roll down the windows and indulge in the groove, especially with its hip-hop-inspired ganja vibes, locally grown in the LBC. There's plenty more sonic exploration within the album, and trust me when I say, you should delve right in!
Encountering a band that truly captivates my attention is a rarity, especially considering the vast amount of new music I consume daily. LakeDub, however, is an exception—an ensemble comprised of skilled, down-to-earth, and passionate individuals whose primary goal is to stand as ambassadors for their tribe and propagate positive vibes.
I recently had the privilege to pick frontman Sammy Dread's brain.
Congrats on the first full length album! How has the response been so far?
Sammy Dread: Thank you, it is very much appreciated and a long time coming for this album. The response we had at our album release show left us speechless! To hear everyone singing along to our message, the response has been absolutely f!%#ing wicked. We plan to bring the same energy every time with new releases!
Being a Long Beach native band, how much influence does the city have on the writing of your songs?
SD: Being from Long Beach, our hometown influences all aspects of our songs and more. The struggles we've overcome, as well as everyone around the world and we want to express the hardship of everyday life for everyday people.
"Reggae Party" is a full on jam; how did the idea of having Kyle Smith on the track come about?
SD: Kyle Smith has been a brother of mine for quite some time now, since the start of LakeDub in early 2019. Our first thought was let's send some tracks over to him ASAP, and he chose "Reggae Party", which couldn't have been a better idea if you ask me! 
Has there been any talks about going on the road to promote the new album?
SD: Yes! I am in the works now on planning a west coast tour and hopefully adding more dates for 2024!!!
I love music packed with positivity, and LakeDub definitely checks that box. What message do you hope to get across to your fanbase with the music you make?
SD: The message we want to get across is we come from nothing started, LakeDub from nothing. FOLLOW YOUR DREAMS, GUYS! Our goal at every show is to make people feel wanted, heard, loved and accepted. We stand for equality, justice and the voices who can't be heard and that will never change! EVERYONE IS FAMILY AT A LAKEDUB SHOW!
Any special thanks or shoutouts?
SD: We want to give a special thanks to Josh Cardinali of Stoney Eye Studios for the awesome production on this album, Sean McCracken for taking LakeDub's first ever professional pictures and everyone who has ever believed in us. We are a bunch of ghetto boys from the gutter and we plan to represent the streets always!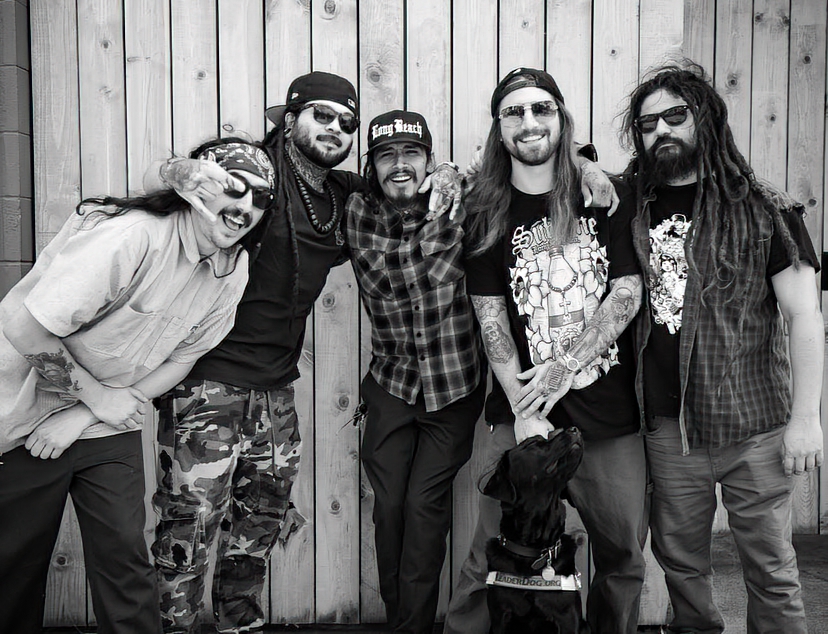 LakeDub is: Sammy Dread (lead singer), Gage "Bones" Henkle (bass), Rene Marquez (drums), Blind Man Drew (rhythm guitar), Pat the Cat (lead guitar), and Fred Hallas (keys)
For enthusiasts of the American reggae scene who have persevered through this read, don't hesitate—dive into LakeDub's debut album. In fact, go ahead and add it to your library now; I assure you, it's a musical experience you won't want to miss!
Artist Links: Website | Instagram | Facebook | YouTube