There's nothing like a family reunion. Now imagine one without any family drama, surrounded by endless familiar faces on a beautiful day sprawled across the breathtaking lawns of San Diego's Embarcadero Marina Park North, with the monumental Coronado Speedway looming in the distance, boats passing by on the water and the palatial highrises of the Gaslamp standing guard just beyond the stage. That was the setting of the first ever Bayfest San Diego: a single day celebrating the best in reggae rock, with most of the performing acts gracing a hometown audience. The weather was temperate, almost a little too toasty for the first time since 'May Gray' took over the city a month prior. It's like the weather gods knew June 1st was something to be regaled.
Bayfest was unique… it wasn't like any other SD fest.
Starting off the solo music stage was Band of Gringos, with San Diego art hero Jimmy Ovadia live painting enthusiastically stage right. It's not a show without some live art and Ovadia always entertains, sometimes as much as the players themselves. Busting out a Jimmy Hendrix cover at the end of their set, Band Of Gringos exited the stage as a deejay took over the live music lapse. Time to mingle and see who else in your possé had showed up. Bayfest was unique… it wasn't like any other SD fest. With Slightly Stoopid at night, naturally, Stoopidheads were out in full force — and so were OBcians! With Ocean Beach, Stoopid's homebase, a skip and a jump due north of Seaport Village, the eight miles to Bayfest was a distance OBcians could work with. Most don't leave the bubble without proper incentive. OB-based Seedless Clothing was also in the house (Kyle McDonald's main choice of attire), as well as renowned OB deejays Unite and Green T. Those two have been spinning in OB over 10 years now, most notably at Ocean Boogie, a monthly dance party that has riled up the locals since 2010. Speaking of OB events, nothing makes Market Day without stopping by Winstons' 'Reggae Wednesday' nights to say hi to DJ Carlos Culture, now heard bumping his rootsy selection across the city every Sunday on Alt 94.9's Bob Radio morning hours. Now do you see what I mean when I said it was a family reunion? After living in OB a decade and working in the niche reggae-rock scene for a decade, Bayfest brought everyone out of the woodwork to party in one place… and not a single soul was upset about it.
Don Carlos might not have been local, but he was definitely welcomed like one. His spry dance moves, despite his age, always gets the crowd ecstatic. HIRIE walked onto the stage next with her trademark six-inch heels, ready to skank and jump around in them like she always does. The boys accompanying her onstage were on point too, relishing in the amount of love they were receiving from the audience. And, what a crowd it was. Stretching all the way back to the festival gates, people were packed in to see HIRIE in action, some rocking at the front lines while others were sitting down in shaded areas to conserve energy. Kids were running around in the VIP and backstage areas, climbing trees that had sprouted up all over the grounds and playing tag to the reggae tunes. As HIRIE mesmerized, Conga Kurty banged away on percussion, always an exemplary addition to any stage.
Fortunate Youth was up next, prompting weed smoke to waft in the air ever denser. The whole event was sponsored by San Diego's Golden State Greens dispensary, after all. (On that note, a running joke happened all day, which I found personally hilarious. In between every set, emcees wished Golden State Greens' commander Heidi Rising a happy birthday over the mic without it being her birthday. Like, at all. It was nowhere near her birthday.)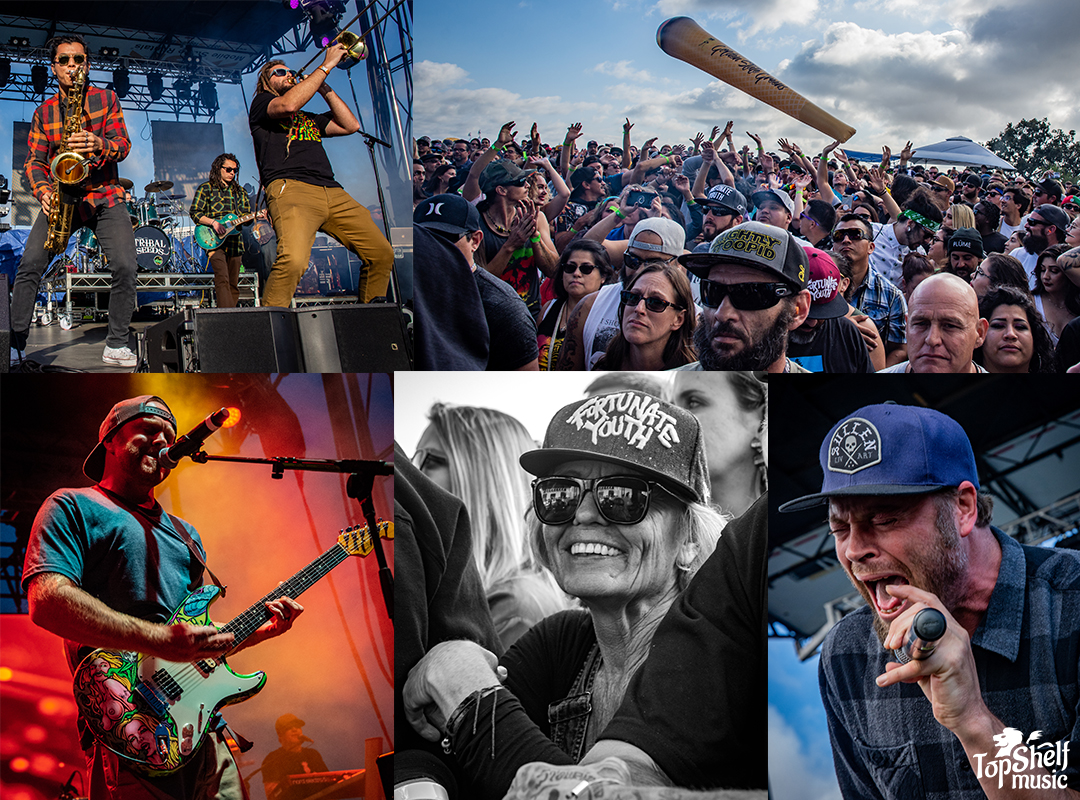 Back to the music, there are almost innumerable reasons why I love Fortunate Youth. Talent aside, it's one great group of men. They love each other. They love their wives and kids. They especially love their fans. Bayfest marked 10 years — to the day — that Fortunate Youth has been a band. Saying that they were in a celebratory mood about that feat would be a total understatement. During the show, a few instances not only made my heart overflow, but reaffirmed my stance on the band being commendable above others. First off, guitarist Greg continuously pulled his little girl out from the side stage to sing and play, once bringing out her and a friend and holding the two on his shoulders as he played guitar without missing a beat. That was impressive as much as it was precious. Those little girls knew every word by heart, too. Now, the second thing really struck me in wonderment. In the middle of one of the songs, a festivalgoer needed medical attention. People were shouting for a medic at the front of the crowd and security rushed over, ready to assist. "WATER", the faint guy's friends were shouting. Before the security guard could turn around, up walked percussionist Travi Bongo — mid-song, mind you — to hand the guy his personal bottle of water off the stage. Tour manager Mike D took the reins next, instructing from side stage for people to create a walkway so that the guy could escape the sardined crowd. FY is unlike any other. Tribal Seeds' Gonzo even did a sweet duet with Dan Kelly to "Sweet Love" before the set was through.
And, of course, Tribal Seeds was another band on the rundown with hometown love going on. San Diegans take pride in Tribal Seeds, knowing they represent the city as much as the California reggae scene. With horns and hyped mannerisms, Tribal Seeds played into the evening as the sun set. It was hard to move around within the grounds at this point; everyone had pushed close together, ready to get Stoopid. Walking around backstage, the boys of Stick Figure were inexplicably attending, not to mention Jurassic 5's Chali 2na. You didn't have to be a genius to put together what was about to happen onstage.
Slightly Stoopid took the stage to a crowd gone crazy…
Slightly Stoopid took the stage to a crowd gone crazy, all shouting every lyric to new and old songs alike. Just as I foresaw, Stick joined the Stoopid boys about five songs in: Scott Woodruff on the mic and KBong played keys beside Stoopid's Paul Wolstencroft. I rarely see those two bands collab… right after seeing both of them perform solo at Cali Roots, no less. The surprises kept coming at Bayfest as Chali 2na did his signature Stoopid song, "Higher Now". Looking out on the crowd, you couldn't spy one person having a bad time. As the festival attendees dispersed, mainly back to beach cities or Don Carlos' afterparty at Music Box, the general consensus was hope for another Bayfest next year. Let's face it, reggae rock fests are always welcome in America's Finest City!
Photography by Sean McCracken